La "guerra" psicologica tra i team del True Blue e del JB-King continua senza esclusioni di colpi. Dopo l'annuncio da parte del True Blue dove si affermava che chiunque utilizza il clone si verrà cancellato l'HD della console e non solo, la risposta del JB-King è stata quella di non fare troppo caso alle parole dette dal True Blue e di continuare ad utilizzare il JB-King senza alcuno problema. A questo punto ci arriva un nuovo update da parte del JB-King che sembra tornare nei suoi passi e affermare di non utilizzare gli ultimi EBOOT rilasciati per il True Blue, per non rischiare di vedersi l'hard disk cancellato e attendere l'aggiornamento, che dovrebbe arrivare nei prossimi giorni, da parte del JB-King.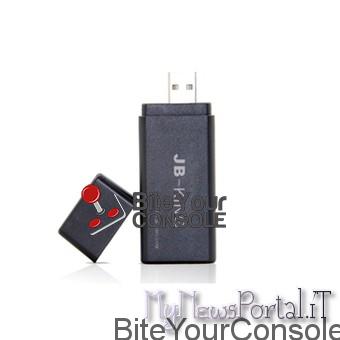 Ma andiamo a vedere l'annuncio ufficiale e i giochi incriminati.
Statement for latest TB eboot format HDD problem!

1.JB-king Team apologize sincerely to our little part JB-king users, whose HDD was erased by playing games below:

2. Our Team will release new upgrade firmware next week, to solve the Erasing HDD problem when playing new games. Expecting to notice JB-king official website

3. Kindly advise JB-king users delay to play below games before we release new upgrade firmware.

4. In order to avoid similar inccident happenning again, JB-King office will better supply JB-King users with game Eboot download space, and welcome to download game Eboots from it.

5. We strongly despise that TB takes the ps3 players as a tool to maintain his windfall profits. We never be afraid of competition, as which is for better servicing our customers but not hurt whose benefits.

Warning:
Some of good resellers noticed us kindly that,the latest 7 eboots TB released recently, will format PS3 console HDD and other unknown risks. These eboots include vicious virus code, will hurt both JB-King users' and TB users' PS3 HDD. For these virus code can not identfy JB-King and TB exactly. Our upgrade for soloving this format problem will be released in days. And invoid to lose your game documents, we advise all TB user dont play those 7 game eboots.

Eboots list not support now:
Mobile Suit Gundam UC
FINAL FANTASY XIII-2
Silent Hill Downpour
Snipers – Invisible, Silent, Deadly
Tales of Graces f
STREET FIGHTER X TEKKEN
Top Gun: Hard Lock
Da tale annuncio si capisce che alcuni utenti hanno veramente riscontrato il problema della cancellazione dell'hard disk della console. Il JB-King si scusa per tale inconveniente e prega tutti i possessori del clone a non giocare ai giochi elencati in fondo al post: Mobile Suit Gundam UC, FINAL FANTASY XIII-2, Silent Hill Downpour, Snipers – Invisible, Silent, Deadly, Tales of Graces , STREET FIGHTER X TEKKEN, Top Gun: Hard Lock.
Come vi abbiamo già anticipato il JB-King sarà presto aggiornato per ovviare a tale problema che ha fatto molto arrabbiare gli utenti del clone.
Il nostro consiglio, in caso si voglia eseguire giochi da 3,55, è quello di acquistare sempre l'originale True Blue, costa di più ma non si rischia nessuna conseguenza.
Un'ultimo appunto è quello della pochezza della notizia, che fa cadere la scena PS3 sempre più affondo in un baratro che solo una nuova console (quindi nuovi progetti) può far cancellare per sempre.
Stay Tuned!
JB-King: nuovo annuncio contro il True Blue
ultima modifica:
2012-04-08T14:40:33+02:00
da