Nella giornata odierna è arrivato un nuovo dongle per PS3, JB2usb. Il dongle viene usato per eseguire giochi 3.60+ da 3.55. Dalle prime impressioni sembra un vero e proprio clone del True Blue, un po' come successe per il JB King, anche JB2usb promette tante novità, ma ad oggi i giochi compatibili sono gli stessi del True Blue. L'unica vera differenza sta nel prezzo, infatti il JB2usb viene venduto a 20 dollari.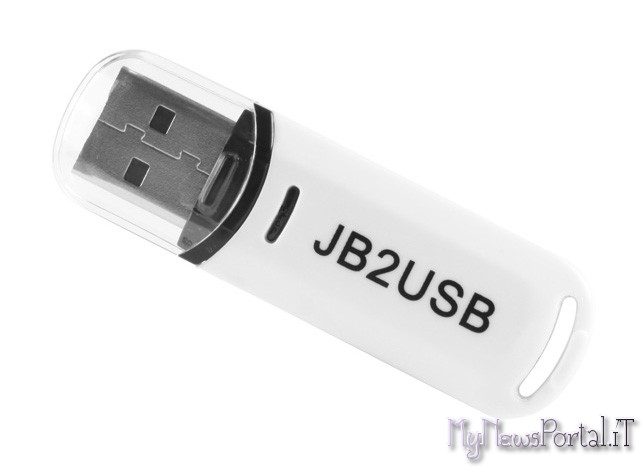 Sul sito sono riportate le varie caratteristiche, andiamo ad analizzarle insieme.
•    Booting of games designed for PS3 system software v3.6 and above
•    Runs your existing games and new v3.6+ games from HDD in conjunction with standard backup managers
•    Does not require the power/eject trick
•    Custom v3.55 Dongle firmware behaves like OFW when jb2usb is not inserted
•    Manufactured from highest grade components and Actel based
•    Durable and high quality metal case design
•    Tough and durable plastic packaging
•    Further features to be added as they are developed
•    On board 2 MBytes SPI flash
•    Supports Fat and Slim PS3 consoles currently running any firmware up to v3.55 and any PS3 which can be downgraded successfully from v3.6+ to v3.55 (NOTE: requires other tools, jb2usb cannot downgrade a console)
•    Supports all regions of consoles
•    Supports all regions of v3.6+ games
•    Rock solid crystal oscillator on board for flawless timing
Come dicevamo le caratteristiche sono simili, per non dire uguali, al True Blue. Il JB2usb permette di eseguire giochi 3.60+ da firmware 3.55 (quindi niente live). Quando il dongle non è attivo, il firmware della console sarà un OFW (original firmware). i giochi possono partire sia da HDD interno ed esterno. Supporta tutte le regioni e le versioni di console, quindi è compatibile con tutte le console in circolazione.
I giochi compatibili sono questi:
Alice Madness restituisce
Assassins Creed Revalations
Atelier Meruru
Atelier Totori The Adventurer di Arland
Bleach Anima Ignition
Bleach Anima Resurreccion
Bodycount
Cabelas Big Game Hunter 2012
Call of Duty: Modern Warfare 3
Call of Juarez The Cartel
Captain America Super Soldier
Carnevale di Isola
Catherine
Child of Eden
DRIVER San Francisco
Dark Souls
Dead Island
Dead Rising 2 Off The Record
Deus Ex Human Revolution
Dirt 3
Dragon Ball Z Tenkaichi ultima
Dungeon Siege 3
Dynasty Warriors Gundam 3
EyePet & Friends
FEAR 3
F1 2011
Fifa 12
GoldenEye 007 Reloaded
Lanterna Verde ascesa dei Manhunters
Harry Potter ei Doni della Morte – Parte 2
Just Dance 3
Kidou Senshi Gundam estrema VS
Kung Fu Panda 2
LEGO Pirati dei Caraibi
Il Signore Degli Anelli La Guerra del Nord
Madden NFL 12
NBA 2K12
NCIS
NHL 12
Need for Speed ​​The Run
NeverDead
Ni no Kuni Wrath della Strega Bianca
O More Heroes Heroes Paradise
Nurarihyon no Mago Hyakki Ryouran Taisen
Portal 2
Gatto con gli Stivali
RAGE
Ratchet e Clank All 4 One
Rayman Origins
Records di Agarest War Zero
Red Faction Armageddon
Rugby World Cup 2011
Rune Factory Tides of Destiny
Saint Seiya Senki
Saints Row Terzo
Sengoku Basara 3 Utage
Sengoku Musou 3 Empires
Shadows of the Damned
Generazioni Sonic
Soul Calibur V
Start The Party! Salvare il Mondo
Super Star Kartz
Super Street Figher IV Arcade Edition
Supremacy MMA
Tales of Xillia
Tekken Hybrid
Le avventure di Tintin The Secret of the Unicorn
The Cursed Crusade
Skyrim
Come possiamo notare i giochi sono gli stessi del True Blue, quindi possiamo affermare con convinzione che il JB2usb è il clone perfetto del dongle blu. Come vi abbiamo già accennato l'unica differenza sostanziosa è il costo, il JB2usb viene venduto a 19,90 dollari, contro i 40-50 del true blue.
Sul sito sono fornite tutte le eventuali procedure per un corretto funzionamento del JB2usb.
Per tutti coloro che sono interessati vi rimandiamo al sito—->
LINK
Have Fun!
JB2usb: un nuovo dongle per PS3
ultima modifica:
2012-02-24T22:41:07+01:00
da