Lo store online della Epic Games questa settimana ci regala Void Bastards, lo sparatutto strategico dalla grafica cartoonesca e Yooka-Laylee, il coloratissimo platform open world.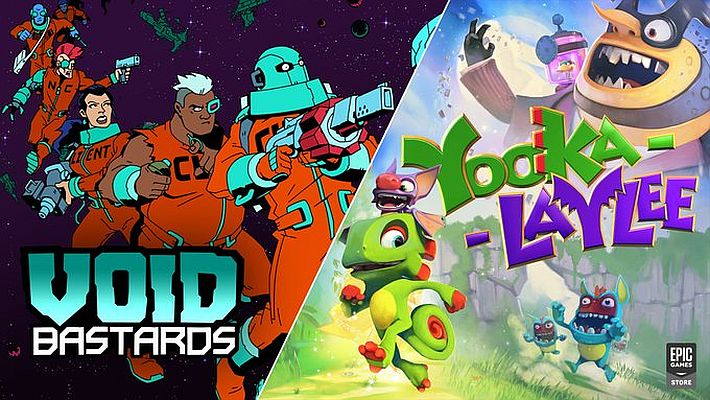 Ispirato da BioShock e System Shock 2, Void Bastards è un nuovo e rivoluzionario sparatutto strategico che metterà alla prova l'ingegno ed eserciterà la mira. Riuscirai a guidare i prigionieri disadattati dell'Arca del Void attraverso le astronavi abbandonate e la miriade di pericoli della Nebulosa Sargasso?
Lead the rag-tag Void Bastards out of the Sargasso Nebula.

Play an epic adventure filled with hulking bosses, arcade games, quiz shows, multiplayer games and more.

Void Bastards + Yooka-Laylee are both FREE this week on the Epic Games Store! https://t.co/L09RPTOfxh pic.twitter.com/Kq0Qsncs27

— Epic Games Store (@EpicGames) August 19, 2021
Dimentica tutto ciò che sai sugli sparatutto in prima persona: Void Bastards ti chiede di prendere il comando, non solo di puntare la pistola e sparare. Il tuo compito è quello di condurre gli straccioni Bastardi del Vuoto fuori dalla Nebulosa Sargasso.
Sei tu a prendere le decisioni: dove andare, cosa fare e contro chi combattere. Poi devi mettere in atto quella strategia di fronte a nemici strani e terribili.
Esplora mondi immensi e bellissimi in Yooka-Laylee, incontra (e affronta) un indimenticabile cast di personaggi e raccogli tantissimi splendidi oggetti con gli inseparabili Yooka (quello verde) e Laylee (la simpatica pipistrellina col naso grande), che vivranno un'avventura epica per fermare l'inquietante magnate Capital B e il suo perfido piano di impossessarsi di tutti i libri del mondo… per convertirli in puro denaro.
Con le loro mosse speciali, i nostri eroi dovranno affrontare tantissime sfide di piattaforma ed enigmi mentre sono alla ricerca dei Pagies, gli oggetti d'oro utilizzati per sbloccare ed espandere nuovi bellissimi mondi, ognuno zeppo di personaggi strambi, corse nei vagoni, giochi arcade, quiz, multiplayer… e tanto altro!
Potrete scaricare gratuitamente entrambi i giochi da questo indirizzo, ma affrettatevi, avrete tempo solo fino al 26 agosto, giorno in cui verrà sostituito da Automachef.
Fonte: twitter.com