Giovedì è il giorno più atteso della settimana per chi gioca su PC, dove la piattaforma Epic Games Store regala diversi giochi, alcuni anche piuttosto recenti e titoli di tripla A. Questa settimana troviamo Defense Grid: The Awakening e Verdun.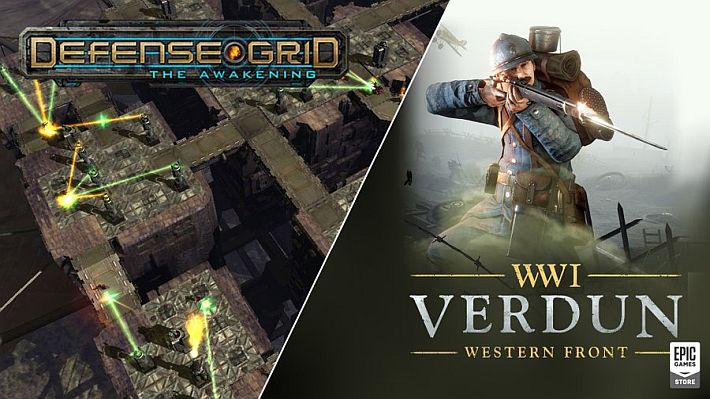 Defense Grid: The Awakening è un gioco strategico in cui posizioni fortificazioni difensive (torri) per impedire agli alieni invasori di rubare i tuoi nuclei energetici. Sta a te selezionare le torri, posizionarle e agire in tempo per proteggere al meglio la tua base.
The battlefield is ready for you.

Defense Grid: The Awakening + Verdun are both FREE this week on the Epic Games Store!https://t.co/L09RPTOfxh pic.twitter.com/rDJDk74l62

— Epic Games Store (@EpicGames) July 22, 2021
In un lontano futuro, l'umanità lotta contro uno spietato nemico con strategie poco efficaci ma un numero apparentemente illimitato di truppe.
Su un piccolo pianeta, gli uomini sono riusciti a respingere gli invasori usando un'avanzata tecnologia per proteggere i nuclei energetici disperatamente desiderati dagli alieni. Uno dei generali si è offerto volontario per essere caricato nel computer e assistere la colonia in un eventuale ritorno degli alieni.
Verdun è invece uno sparatutto multiplayer in prima persona ambientato in una ricostruzione realistica dello scenario della Prima Guerra Mondiale. La spietata guerra in trincea offre un'esperienza di battaglia unica, che trascina te e la tua squadra in intense battaglie di attacco e difesa.
Il gioco si svolge sul fronte occidentale fra il 1914 e il 1918, in uno dei conflitti più sanguinosi della storia mondiale. Gli sviluppatori si sono ispirati alla famigerata Battaglia di Verdun del 1916.
Sono presenti 4 distinte modalità di gioco: Linee del fronte, Logoramento, Scontro mortale con fucile e Difesa del plotone. Sono inoltre presenti anche molti elementi storicamente accurati, come armi realistiche della prima Guerra Mondiale, uniformi autentiche, spargimenti di sangue e mappe basate sui veri campi di battaglia in Francia e Belgio.
Potrete riscattare e scaricare gratuitamente entrambi i titoli da questo indirizzo, dal prossimo giovedì i giochi verranno sostituiti da altri due titoli, Mothergunship e Train Sim World® 2.
Fonte: twitter.com
Epic Games Store regala Defense Grid: The Awakening e Verdun
ultima modifica:
2021-07-22T19:11:01+02:00
da