Grande promozione da Mediaworld e sul volantino dal 5 al 15 Novembre sarà possibile acquistare una Playstation 4 da un terabyte con Assassin Creed Syndicate e Call of Duty: Black Ops III al prezzo di 399 euro.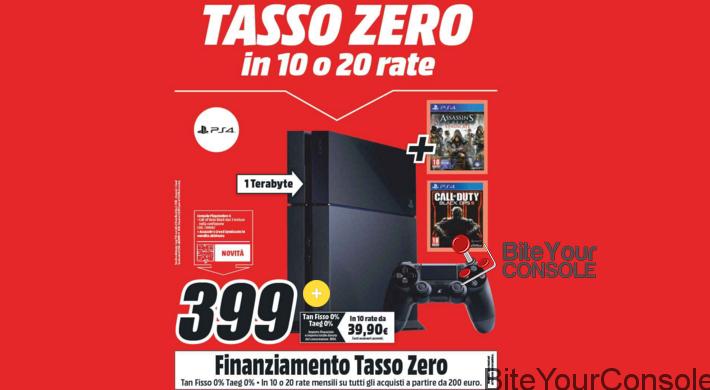 I singoli giochi hanno un costo non indifferente, si parla di 59,99 euro per Assassin's Creed Syndicate e Call of Duty: Black Ops III, vale a dire una spesa di 119,98 euro, conti alla mano la sola console da un terabyte ci verrebbe a costare 279,02 euro.
Due titoli al bivio, mentre per lo sparatutto è presente il multiplayer online, lo stesso non si potrà dire per il nuovo capitolo di Assassin's Creed, anche se questo non significa che non sarà divertente, ma terminato il gioco, difficilmente si troverà la voglia di rigiocarlo più volte.
Tutto sommato ci sembra un più valido acquisto, ma crediamo fortemente che da qui a Natale ce ne saranno tantissimi altri, e bundle anche con il prossimo titolo di punta, Fallout 4.