Il developer CaptainCPS-X ha rilasciato un aggiornamento per lo strumento a riga di comando che analizza in modo dettagliato il supporto delle immagini ISO/BIN.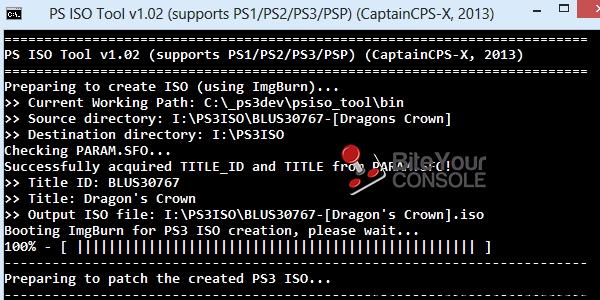 Questo strumento analizza ogni titolo supportato dalla Playstation in ISO/BIN e il controllo dei moduli per vedere se questi sono validi (ISO9660/MODE1/2048) o (MODE2/2352). Quando questa viene utilizzata come biblioteca per un'applicazione presente può portare diverse funzioni come:
[PS1 / PS2] Prende il Title ID del gioco dal file SYSTEM.CNF e ottiene il titolo da un database di testo.
[PS3 / PSP] Prende il Titolo e l'ID del gioco dal PARAM.SFO presente nella ISO (senza bisogno di un database di testo).
I Titoli vengono convertiti automaticamente da UTF -8 a ASCII.
Offre una funzione per patchare le ISO PS3 create con diverse applicazioni da GenPS3iso (es. ImgBurn, PowerISO ecc..).
Gli utenti potranno applicare le patch rapidamente ad eventuali ISO PS3 create specificamente con un'applicazione diversa da GenPS3iso.
Changelog
Aggiunta funzione per creare immagini ISO con ImgBurn e patchare l'header al fine di attenersi al formato del disco PlayStation 3.
Migliorato esteticamente.
Nota: La patch renderà la ISO valida per la Playstation 3, se si tenta di installare senza la patch, il sistema non lo rileverà.
Utilizzo
Esempio di patch per un titolo PS3 ISO
ps_isotool –ps3 –verbose –patch "C:\PS3ISO\MyPS3ISO.iso"
Visualizzare le informazioni dalla ISO
ps_isotool –ps1 –verbose "C:\PSXISO\MyPS1ISO.bin"
ps_isotool –ps2 –verbose "C:\PS2ISO\MyPS2ISO.iso"
ps_isotool –ps3 –verbose "C:\PS3ISO\MyPS3ISO.iso"
ps_isotool –psp –verbose "C:\PSPISO\MyPSPISO.iso"
Nota: se non si specifica l'istruzione –verbose verrà visualizzato solo l'ID del Titolo e il Titolo.
Creazione di una ISO PS3 in conformità con il formato del disco standard di sistema
psiso_tool –mkps3iso "C:\GAMES\BCUS98174-[The Last of Us]" "C:\DESTINATION_DIR"
psiso_tool –mkps3iso "C:\GAMES\BCUS98174-[The Last of Us]"
Nota: Non è necessario specificare il nome del file ISO, esso verrà generato automaticamente, basta specificare la  "Source Directory" e la "Destination Directory".
Se non viene specificata la "Destination Directory" la ISO verrà creata nella directory principale del "PS ISO Tool".
Importante: Non vi è stata implementata ancora il controllo per lo spazio su HDD, se avete intenzione di lavorare su di una grande partita di giochi, assicuratevi di avere abbastanza spazio sufficiente sull'hard disk.
Incluso nel pacchetto troverete il nuovissimo strumento PS ISO Tool GUI realizzato dal noto developer Aldo Vargas.
Download: PS ISO Tool 1.02