I vari Software delle guide come J-Runner JTAG Companion si stanno aggiornando con l'auto-aggiornamento, per aggiungere la nuova Dashboard tra le opzioni disponibili per la creazione del Kernel da flashare sulla propria JTAG, basta andare in J-Runner dopo l'aggiornamento automatico di XeBuild & Dashlaunch, e: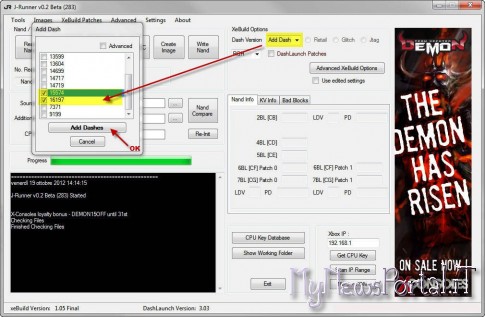 Come potete notare è stato aggiunto il nuovo kernel  16197.
Di seguito la changelog ufficiale di XeBuild 1.05
 Changelog XeBuild 1.05 versione finale
Aggiunto supporto al nuovo kernel 16197
tidy ini_creator output a little
colons were not being removed from macid string in ini file, fixed
added corona4g build target and dump parsing, nanddump.bin should be minimum 0×3000000 bytes from corona mmc machines (no spare data)
Xstress.settings will now be kept along with other mobile data
added flash header sanity checks
adjust dump loader to allow for 64bit file sizes
build process will no longer complete a retail image if smc is patched or a jtag image if smc is unpatched. Apparently a big fat error warning isn't enough.
added some older retail.ini, added new switch to allow selecting specific bl configs (if making images with patches, the switch is appended to patch names as well)
Download:
Enjoy!
[XBox360] Rilasciato XeBuild 1.05, versione finale
ultima modifica:
2012-10-20T00:09:31+02:00
da