E' stato rilasciato un nuovo update per uno dei titoli più conosciuti in App Store: Cut the Rope: Experiments, che da ora permetterà di avere a disposizione nuovi superpoteri!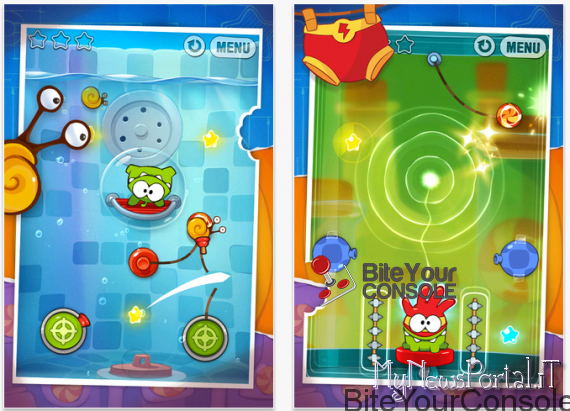 Cut the rope è un gioco il cui obiettivo è quello di sfamare un simpatico mostriciattolo di nome Om nom con delle caramelle. Nel secondo episodio di questo titolo sono stati introdotti molti elementi in grado di innovare le meccaniche di gioco ormai familiari, come ad esempio delle corde e ventose che potremo lanciare. Ci troveremo in compagnia di un Professore sicuramente fuori dal comune interessato a fare degli esperimenti sul nostro piccolo amico, che interagirà con noi attraverso vari commenti sull'andamento della partita; la grafica del gioco rimane la stessa, semplice, colorata e divertente, a cui siamo stati ormai abituati e che abbiamo imparato ad apprezzare.
Cut the Rope: Experiments è da poco stato aggiornato alla nuova versione 1.4 che introdurrà interessanti nuovi superpoteri. Questi infatti ci aiuteranno a superare i livelli più difficili e a giocare in nuovi modi con strategie di gioco differenti. Potremo usare la telecinesi per controllare il bonbon, renderlo indistruttibile e scoprire le stelle nascoste per sbloccare nuovi livelli in modo più veloce!
Cut the Rope: Experiments è disponibile su App Store al prezzo di 0,79€ in una versione per iPhone, mentre quella per iPad è disponibile al prezzo di 1,59€ a questo link.
Cut the rope Experiments si aggiorna alla versione 1.4
ultima modifica:
2012-07-08T11:15:59+02:00
da