Solamente ieri vi abbiamo parlato di questo nuovo homebrew per PS Vita (LEGGI ARTICOLO). Oggi raggiunge la versione 0.2, che rende compatibile il programma con Linux e Mac, oltre a correggere alcuni bug di partenza. L'applicazione nelle prossime release implementerà il supporto multilingua.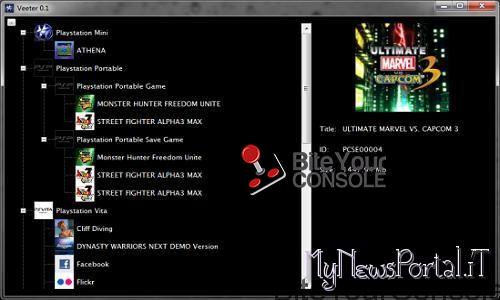 Di seguito la changelog e il download.
New in 0.2:
MONO Compatible!! – Using Mono will allow Mac OSX users and Linux users to run PSVeeter!

To use in MacOSX or Linux simply install the MONO framework – go-mono.com/mono-downloads/download.html
then run by either terminal 'mono PSVeeter.exe' or using the included shell script!

Overhauled Loading (Should be quicker)
Overhauled Deleting (Should work in 99% of cases now, unless Explorer has locked a directory)
Will not repeatedly ask for a directory everytime, it now stores the selected Directory (PSVeeter.ini). This prevents MacOSX and Linux users from going insane
Added in support for newer SFO Files (Should recognise more games now)
Corrected my Size handler
'Collapse All' button now toggles to 'Expand All'
Loading/Splash/About Screens
Started adding in Language support (Should be ready for 0.3)
Per tutti coloro che sono interessati di seguito il download—>
LINK
Have Fun!