Oramai manca solo l'annuncio ufficiale da parte di Activision, ma tutti gli indizi danno per certo che il prossimo capitolo sarà il seguito di black ops, che ha subito molte critiche sia positive che negative.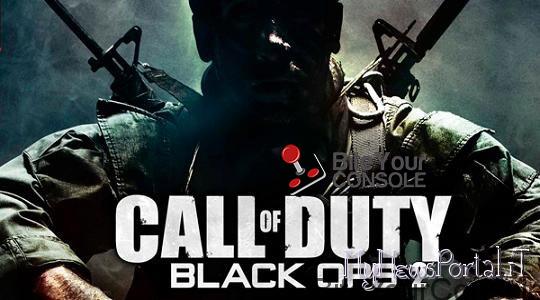 il primo capitolo creato da Treyarch a molti è sembrato troppo…
serio e cupo ad altri invece è piaciuto per la storia (non troppo lunga) e il multiplayer ben fatto.
Possiamo dire che dietro a questo gioco ci sono decine di migliaia di utenti che tutti i giorni affrontano mappe ben disegnate e ben fatte. Se analizziamo in profondità il gioco, dobbiamo ammettere, che è uno dei giochi fra i più belli e coinvolgenti (anche se molti negano tale affermazione). Sicuramente i primi capitoli sono stati i migliori della saga Call of Duty, ma nell'era moderna, dove il multiplayer è al centro dell'attenzione,  hanno perso un po' nella storia ed hanno acquistato molto nel gioco live. I giochi di guerra che sono al top in questi anni sono sicuramente la saga Call of Duty e i vari Battlefield, che stanno scrivendo un capitolo importante nel nostro intrattenimento sulle console.
L'unica cosa che forse da fastidio agli utenti è che la stessa Activision marcia un po' troppo sopra al gioco, rilasciando DLC costosi e a volte abbastanza inutili, ma la colpa non è sicuramente della casa produttrice, ma di noi utenti che compriamo il DLC ad occhi chiusi, solo per il gusto di averlo o solamente per curiosità.
Call of Duty per molti anni ancora rimarrà uno dei giochi più discussi,ma rimarrà anche uno dei più acquistati di sempre.
Black Ops 2 uscirà , come ogni anno, fra Ottobre e Novembre: Non ci resta che attendere l'annuncio ufficiale da parte di Activision e le relative prime immagini così da poter iniziare a far salire l'hipe sul nuovo capito targato Call of Duty.
Stay Tuned!
Black Ops 2 sarà il nuovo capitolo della saga Call of Duty
ultima modifica:
2012-02-20T12:10:02+01:00
da