Exult Vita porta Ultima 7 su console PlayStation Vita e PlayStation TV, il porting sviluppato dal developer einmueller presenta ancora alcuni piccoli bug.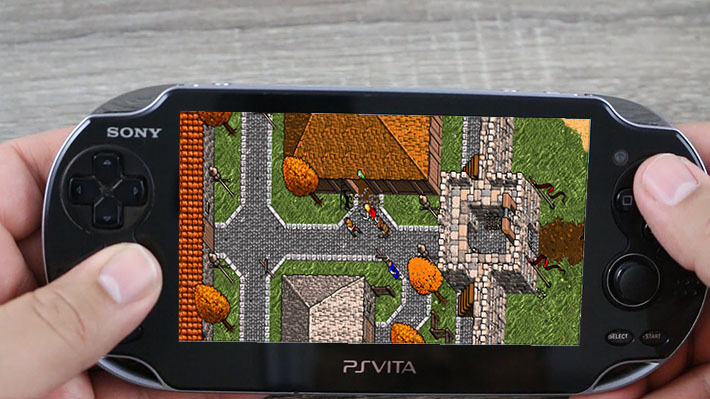 Ultima 7, un gioco di ruolo dei primi anni '90, presenta ancora un enorme seguito. Ma, essendo un gioco per DOS con un gestore di memoria non standard, è difficile eseguirlo sulle piattaforme più recenti.
Exult Vita v.1.8 vita.1 by einmueller can now be downloaded from VitaDB, VHBB or EasyVPK! More info is available here: https://t.co/cvsLg8Cgx1

— VitaDB (@VitaDB1) June 10, 2022
Exult nasce proprio per colmare queste lacune, un motore di gioco di Ultima 7 che gira sui più moderni sistemi operativi, in grado di utilizzare dati e file grafici forniti con il gioco.
Exult è scritto in C++ utilizzando la libreria SDL per rendere relativamente semplice il porting su altre piattaforme. La versione attuale supporta entrambi i capitoli Ultima 7: The Black Gate e Ultima 7 part 2: The Serpent Isle.
Il gioco in questa versione potrebbe presentare rallentamenti e arresti anomali, resta comunque una buona base di codice per un ulteriore sviluppo.
Installazione
Dopo aver scaricato e installato il file .vpk, copiare i file di dati e i giochi nella directory ux0:/data/exult.
Note
La musica digitale funziona, ma risulterebbe lenta. La Softkeyboard congela l'esultanza, quindi per ora è stata disabilitata.
I salvataggi vengono nominati in base alla data e all'ora di creazione.
Download: Exult Vita v1.8 vita.1
Fonte: twitter.com