Gli abbonati ad Amazon Prime a marzo potranno riscattare e scaricare su PC titoli del calibro di Madden NFL 22, Surviving Mars, Pesterquest e tanti altri su Prime Gaming.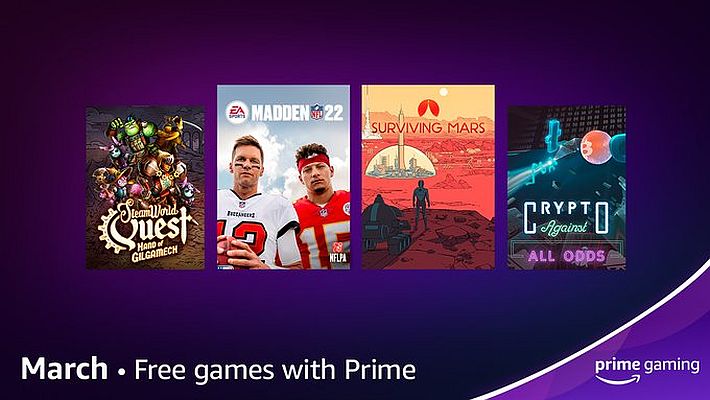 Prime Gaming è l'esperienza premium di Twitch inclusa per gli abbonamenti di Amazon Prime e Prime Video. I titoli verranno affiancati anche da diversi oggetti di gioco.
Yes, you can get SOOOOO MANY GOODIES next month! And they're FREE for all Prime members.

See what new things have got us like 🤩🤩⬇️

— Prime Gaming (@primegaming) February 24, 2022
Giochi gratuiti con Prime
Madden NFL 22
Con Madden NFL 22 vivi le emozioni del campo. Nuove funzionalità in Franchise: gestione dello staff, motore di scenario migliorato e strategia settimanale. Condividi i progressi dell'avatar e la classe giocatore tra Face of The Franchise e The Yard con la progressione unificata.
Surviving Mars
Supera le sfide ed esegui strategie per migliorare le possibilità di sopravvivenza della tua colonia su Marte mentre sblocchi i molti misteri di questo mondo alieno.
Crypto Against All Odds
Assumi il ruolo di un esperto di sicurezza informatica in questo gioco di difesa della torre in cui i giocatori combatteranno contro hacker e altre minacce blockchain ambientate in questa narrativa interattiva cypherpunk.
looK INside
Gioca nei panni di Manon, un personaggio che scopre un libro in soffitta che rivela il passato dei membri della sua famiglia attraverso i loro ricordi, gesti, stranezze e piccoli segreti.
Pesterquest
Intraprendi una missione di importanza epica in Pesterquest, una cupa avventura a episodi di romanzo visivo ambientata nell'oscuro e divertente universo di Homestuck / Hiveswap. Trova tutte le risposte che stai cercando mentre sfrecci tra la Terra e Alternia facendo amicizia lungo la strada.
SteamWorld Quest: Hand of Gilgamech
Guida un gruppo di aspiranti eroi attraverso un mondo splendidamente disegnato a mano e intense battaglie usando solo l'ingegno di un giocatore e una manciata di carte.
The Stillness of the Wind
Gioca nei panni di Talma, un personaggio che si sta avvicinando ai suoi ultimi anni vivendo il suo modo di vivere semplice occupandosi della sua fattoria, sopravvivendo, sopravvivendo, mentre le lettere sempre più inquietanti arrivano dalla sua famiglia in città.
Fonte: twitter.com