Jukebox Adventure è il sequel di The Blues Brothers pubblicato nel 1993. Il gioco mantiene le caratteristiche del capitolo precedente offrendo una meccanica di gioco dove occorre superare livelli a scorrimento 2D costituiti da Piattaforme.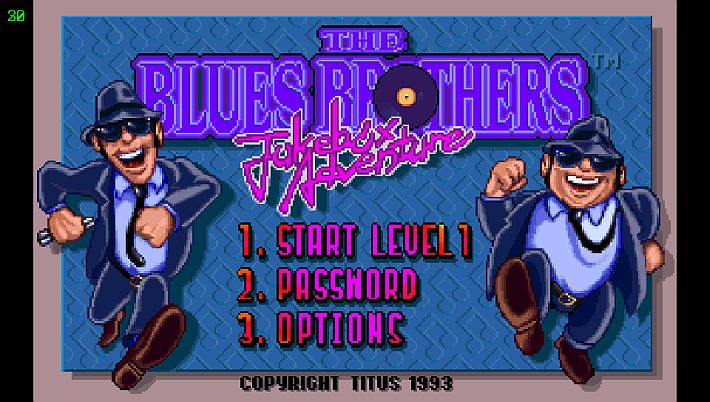 Nel gioco bisogna raccogliere dei record utilizzandoli come difesa verso i nemici. Ci sono anche potenziamenti che possono essere raccolti fino a quando non viene trovato il jukebox per passare al livello successivo.
The Blues Brothers: Jukebox Adventure v.1.0 by @gl33ntwine can now be downloaded from VitaDB, VHBB or EasyVPK! More info is available here: https://t.co/ASTWJHfbyY pic.twitter.com/eJhQktGiRb

— VitaDB (@VitaDB1) January 17, 2022
Requisiti
The Blues Brothers: Jukebox Adventure
Sono richiesti i file di gioco della versione DOS.
*.EAT, *.MOD
Modifiche
Rispetto agli eseguibili DOS originali, i motori riscritti presentano:
Scorrimento orizzontale.
Dimensione dello schermo configurabile.
Trucchi di gioco: Vite ed energia illimitate, nessun Hit.
Per impostazione predefinita, l'eseguibile carica i dati di gioco dalla directory corrente.
Download: The Blues Brothers: Jukebox Adventure v1.0
Download: Source code The Blues Brothers: Jukebox Adventure
Fonte: twitter.com