La console PlayStation Vita accoglie Prehistorik 2, il porting del simpaticissimo platform a scorrimento laterale sviluppato dalla Titus Interactive (lo stesso studio di The Blues Brothers) e rilasciato nel 1993.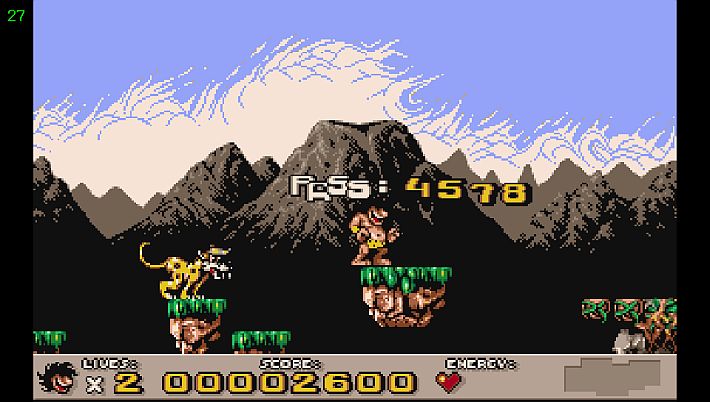 Il gioco ha come protagonista un uomo delle caverne che cerca il cibo, combatte contro una serie inusuale di nemici e deve sconfiggere divertenti boss di fine livello.
Prehistorik 2 v.1.0 by @gl33ntwine can now be downloaded from VitaDB, VHBB or EasyVPK! More info is available here: https://t.co/vZ4HpEWKIx pic.twitter.com/9CoziykL2q

— VitaDB (@VitaDB1) January 17, 2022
L'arma principale è una clava per colpire sulla testa le orde di nemici. Ci sono vari oggetti che nascondono al loro interno degli alimenti, devono essere colpiti con la clava.
I punti vengono accumulati raccogliendo il cibo così come altri oggetti quali pietre preziose. Si avanza al livello successivo trovando un accendino.
Requisiti
Prehistorik 2
Sono richiesti i file di gioco della versione DOS, del gioco completo o della demo.
*.SQZ, *.TRK
Modifiche
Rispetto agli eseguibili DOS originali, i motori riscritti presentano:
Scorrimento orizzontale.
Dimensione dello schermo configurabile.
Trucchi di gioco: Vite ed energia illimitate, nessun Hit.
Per impostazione predefinita, l'eseguibile carica i dati di gioco dalla directory corrente.
Download: Prehistorik 2 v1.0
Download: Source code Prehistorik 2
Fonte: twitter.com