Il team dietro lo sviluppo dell'emulatore RPCS3 ci fa sapere di avere raggiunto un importante traguardo. Non è rimasto un solo gioco che RPCS3 non possa in qualche modo avviare.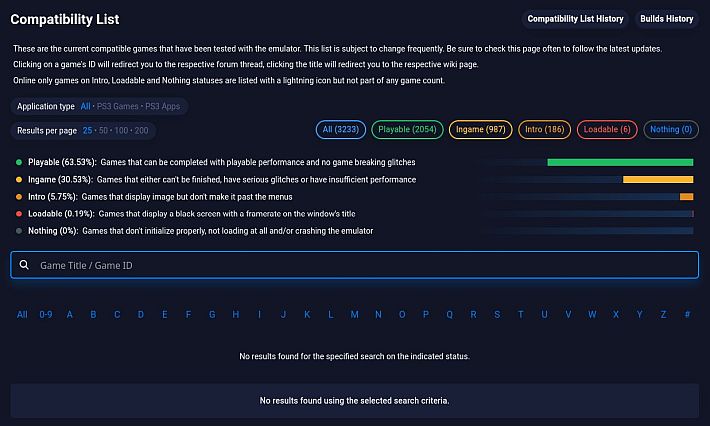 Tutti, ma proprio tutti i 3233 titoli che compongono la libreria della console PlayStation 3 possono essere emulati sia su PC Windows che su Linux, a patto di rispettare i requisiti di sistema.
We're delighted to announce that RPCS3 now has a total of ZERO games in the Nothing status!
This means that all known games and applications at least boot on the emulator, with no on-going regressions that prevent games from booting.
We look forward to emptying out Loadable too! pic.twitter.com/fE1iDpAvQo

— RPCS3 (@rpcs3) October 20, 2021
Sono rimasti solo sei giochi nella sezione 'Loadable' (lo 0,19% dell'intera libreria), questi titoli mostrano solo uno schermo nero con un framerate sul titolo della finestra.
Sono invece 186 i giochi nella sezione 'Intro' (qui il 5,75%), titoli che si limitano a visualizzare l'immagine ma che non riescono a superare i menu di gioco.
Si sale con la sezione 'Ingame' che presenta ben 987 titoli (al 30,53%), i giochi in questa categoria presentano ancora gravi problemi o prestazioni insufficienti, tanto da non poter essere portati a termine.
Infine la sezione 'Playable' che registra ben 2054 titoli (63,53%), qui i giochi possono essere completati con prestazioni giocabili e senza alcun problema tecnico.
Da poco è stata pubblicata la versione 0.0.18 alpha, tuttavia la repository presenta solo punti di riferimento e non build stabili. Si consiglia pertanto di scaricare le ultime build da https://rpcs3.net/download
Fonte: twitter.com