Microsoft ha annunciato i titoli della Games with Gold per il mese di settembre, già da lunedì gli utenti abbonati potranno scaricare Warhammer: Chaosbane e Zone of the Enders HD Collection, quest'ultimo uscito su console Xbox 360.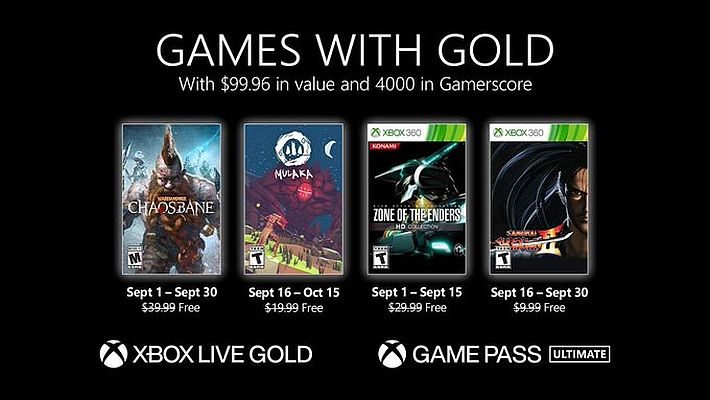 Dal 16 settembre al 15 ottobre sarà possibile scaricare invece Mulaka, mentre sempre dallo stesso giorno Zone of the Enders HD Collection verrà sostituito da Samurai Shodown II che potrà essere scaricato gratuitamente fino al prossimo 30 settembre.
Warhammer: Chaosbane
In un mondo devastato dalla guerra e dominato dalla magia, sei l'ultima speranza per l'Impero dell'Uomo. Scegli il tuo eroe tra quattro diverse classi di personaggi e preparati per battaglie leggendarie con un massimo di quattro amici contro le onnipotenti orde del Caos in questo gioco di ruolo d'azione.
Mulaka
In questo titolo di azione-avventura basato sulla ricca cultura indigena del popolo Tarahumara, combatti contro una strana sporcizia che sta corrompendo la loro terra.
Nei panni dello sciamano locale, Sukurúame, attingi al potere dei semidei, risolvi enigmi e combatti corpo a corpo in ambienti ispirati alle vere località della Sierra.
Zone of the Enders HD Collection
Da Hideo Kojima, il creatore della serie Metal Gear, arriva un'epopea spaziale come nessun altro. Pilota l'Orbital Frame, Jehuty, e aiuta la Space Force a sconfiggere le forze di Bahram una volta per tutte.
Questa collection contiene sia Zone of the Enders che Zone of the Enders: The 2nd Runner, tutto in un'unica raccolta.
Samurai Shodown II
Sali sul grande palco per mettere alla prova le tue abilità in intensi combattimenti con la spada usando le funzioni Rage System e Weapon Breaking Attack.
Gioca con 15 dei tuoi personaggi preferiti in questo rinomato gioco di combattimento armato di armi, contro una concorrenza spietata come non mai.
Fonte: news.xbox.com