Microsoft ha annunciato i titoli della Games with Gold per il mese di aprile, si inizia da giovedì con il download di Vikings: Wolves of Midgard e Dark Void.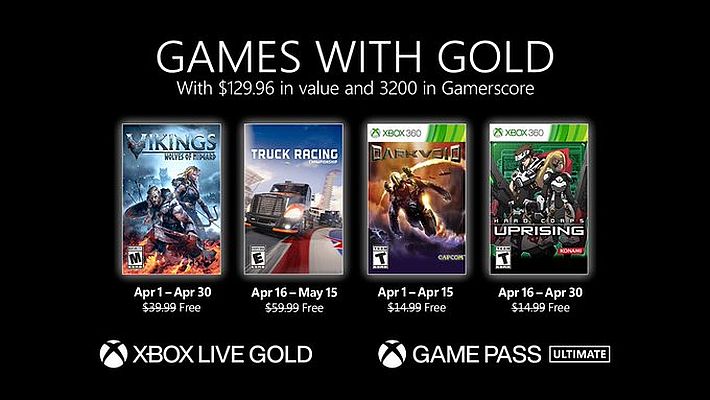 Dal 16 aprile al 15 maggio Vicious Attack Llama Apocalypse lascerà il posto a Truck Racing Championship, mentre sempre dallo stesso giorno Dark Void verrà sostituito da Hard Corps: Uprising che potrà essere scaricato gratuitamente su fino al prossimo 30 aprile.
Vikings: Wolves of Midgard
Viaggio sulle rive di Midgard, un mondo basato sulla mitologia con un tocco di fantasia. Unisciti a una famigerata banda di guerrieri vichinghi e inizia la lotta contro il temibile Jotan e le bestie di Ragnarok.
Padroneggia potenti armi tra cui spada e scudo, martelli a due mani, asce e archi e sconfiggi le creature diaboliche di Fimbulwinter che minacciano di porre fine a tutta la vita.
Truck Racing Championship
Mettiti al volante di giganteschi semirimorchi da 5 tonnellate e 1.000 cavalli in un'esperienza di corsa completamente nuova. Con tutte le sfide uniche dell'European Truck Racing Championship, guida 45 veicoli diversi in 14 circuiti in tutto il mondo.
Considera il peso del camion in curva, monitora l'usura degli pneumatici e trova la tattica migliore per vincere la gara.
Dark Void
Entra nel Void, un sinistro mondo parallelo pieno di alieni ostili e profondo mistero. Dark Void mette in mostra armi potenti, dove una combinazione di combattimento a terra e combattimenti aerei alimentati da jetpack porta una dinamica elettrizzante.
Sperimenta la transizione senza soluzione di continuità tra combattimento e volo in questa epica avventura.
Hard Corps: Uprising
Gioca al titolo d'azione retrò corri e spara, Hard Corps: Uprising. Scrivi la tua leggenda nelle estenuanti trincee della modalità Arcade o aggiorna e costruisci il tuo soldato in modalità Rising, dove solo il meglio del meglio può sopravvivere e ottenere la vittoria finale.
Fonte: news.xbox.com
Microsoft annuncia i Games with Gold di aprile per Xbox 360 e Xbox One
ultima modifica:
2021-03-30T19:58:01+02:00
da