Gli abbonati ad Amazon Prime da ottobre potranno riscattare e scaricare su PC titoli del calibro di Dead Age, Jay and Silent Bob: Mall Brawl, Layers of Fear, Silver Chains e Surf World Series su Prime Gaming.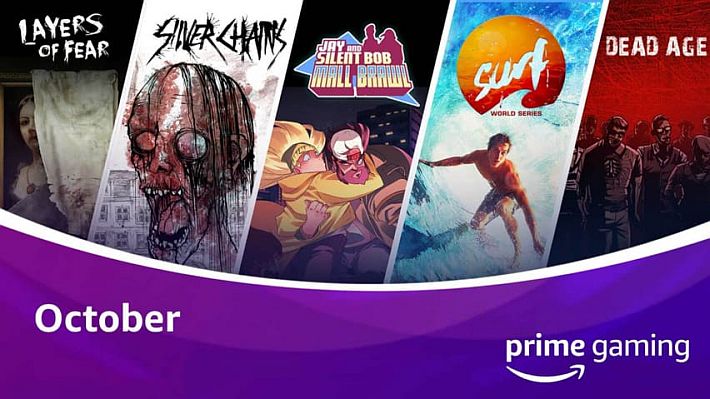 Prime Gaming è l'esperienza premium di Twitch inclusa con gli abbonamenti di Amazon Prime e Prime Video. I cinque titoli verranno affiancati anche da diversi oggetti di gioco.
We got the spookies n scares for you with the free games with #PrimeGaming along with some variety to help lower your heart-rate! This month includes:

🖼️Layers of Fear
💀Silver Chains
🧟Dead Age
🧢Jay and Silent Bob: Mall Brawl
🏄Surf World Serieshttps://t.co/n6fHdwGt9C pic.twitter.com/oAaeU7YBxW

— PrimeGaming (@primegaming) October 1, 2020
Ecco cosa otterrai dal primo ottobre con Prime Gaming:
Dead Age –
Jay and Silent Bob: Mall Brawl –
Layers of Fear – Vivi un'avventura fantasy unica e rivivi l'aspetto e l'atmosfera dei videogiochi della vecchia scuola in questo gioco di azione-avventura in 3D.
Silver Chains – Comanda una squadra di piccoli soldati, la guerra potrebbe essere un inferno, ma questo è il modo più divertente per combattere in uno.
Surf World Series – Parti per un'esplorazione di Adelpha, un mondo alieno tanto bello quanto pericoloso.
Oltre ai giochi su citati, gli abbonati ad Amazon Prime potranno riscattare e scaricare svariati classici SNK, come Art of Fighting 2, King of Fighters 97 e Metal Slug 2.
Fonte: twitter.com