Microsoft ha annunciato i titoli della Games with Gold disponibili dal primo aprile, gli utenti abbonati a Xbox Live Gold potranno scaricare gratuitamente altri due giochi della Xbox 360 e della Xbox One.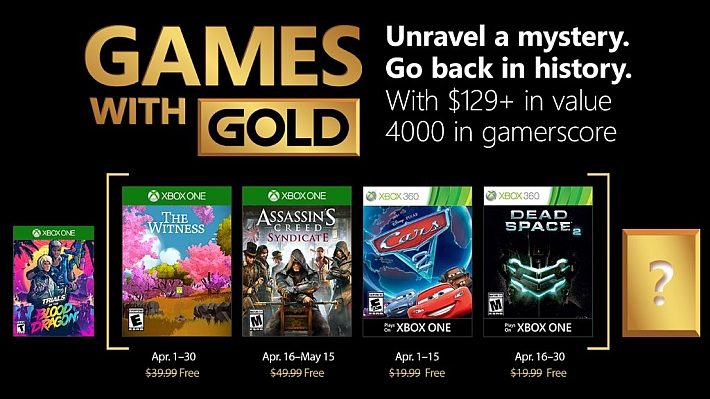 Per tutto il mese di aprile gli abbonati potranno scaricare su Xbox One l'avventura enigmatica in single-player The Witness.
Dal 16 aprile al 15 maggio, sempre su Xbox One troviamo invece Assassin's Creed Syndicate, il nono capitolo della serie segue la storia e le vicende di Jacob ed Evie Frye nel loro percorso all'interno della criminalità organizzata nella Londra Vittoriana e nella loro lotta contro il potere costituito, controllato dai Templari.
Su Xbox 360 sarà la volta di Cars 2: The Video Game disponibile dal primo al 15 aprile, mentre dal 16 al 31 marzo gli abbonati potranno scaricare gratuitamente Dead Space 2. Questi due titoli, ricordiamo, potranno essere eseguiti anche su Xbox One grazie alla retrocompatibilità.