Sette nuovi capolavori in arrivo su Xbox Game Pass a Dicembre, dopo Metal Gear Solid V: The Phantom Pain arriva Gears of War 4 e Darksiders: Warmastered Edition.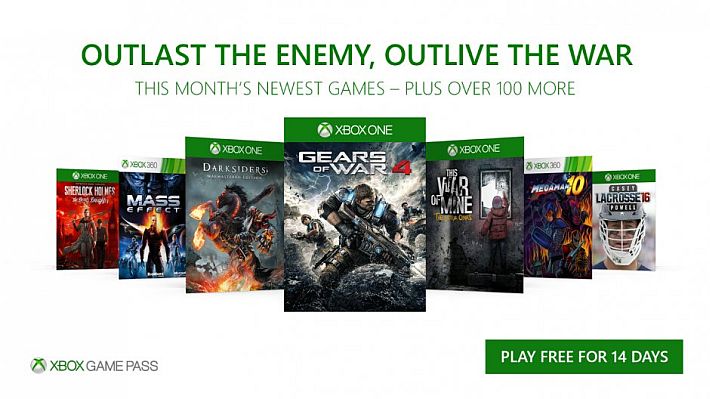 Il 16 ottobre scorso, Microsoft ha pubblicato un importante aggiornamento per Xbox One, portando diverse funzionalità innovative e una dashboard completamente ridisegnata.
La nuova dashboard può essere personalizzata con diversi blocchi, e i membri abbonati al servizio potranno aggiungere sulla schermata principale il blocco di Xbox Game Pass, questo permetterà di accedere più velocemente alla libreria degli oltre 100 titoli.
Il servizio in abbonamento, disponibile anche in Italia ad oggi raccoglie già una vasta libreria di titoli per Xbox One e Xbox 360, da Mad Max a Borderlands e i primi tre capitoli di God of War a cui si aggiunge il quarto a Dicembre, e tutti disponibili per soli 9,99 euro al mese.
I giochi volendo potranno essere anche acquistati con uno sconto speciale del 20% (DLC e contenuti in sconto del 10%). Per la lista completa e consultare le FAQ seguite questo link.
Microsoft per le offerte del Black Friday di quest'anno ci offre un mese di abbonamento a Xbox Game Pass ad appena un euro, la promo può essere attivata solo dai nuovi abbonati.
Per chi invece intende continuare l'abbonamento risparmiando 2 euro sul prezzo imposto, gli basta acquistare un codice a questo indirizzo per soli 7,99 euro invece di 9,99 euro.
Gears of War 4.
Darksiders: Warmastered Edition.
Sherlock Holmes: The Devil's Daughter.
This War of Mine: The Little Ones.
Casey Powell Lacrosse 16.
Mega Man 10.
Mass Effect.