In questi giorni Nintendo ha rilasciato la lista completa dei giochi che potremmo acquistare al lancio della nuova console WiiU. La lista non è molto capiente, ma alcuni titoli valgono la pena almeno di essere valutati.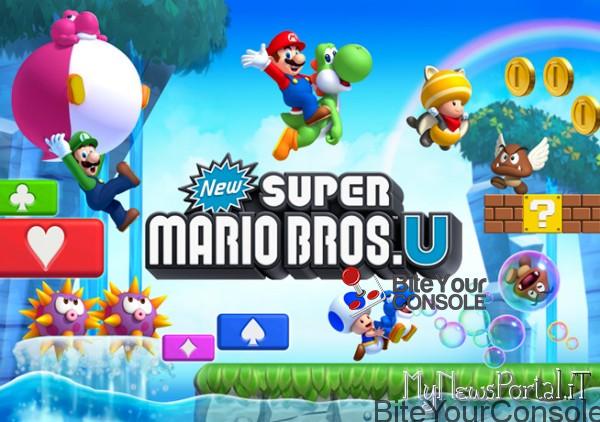 Di seguito la lista completa.
Giochi disponibili al lancio
Call of Duty Black Ops II
Skylanders Giants
TRANSFORMERS PRIME
Wipeout 3
Epic Mickey 2: The Power of Two
FIFA 13
TEKKEN TAG TOURNAMENT 2
New Super Mario Bros. U
NINJA GAIDEN 3: Razor's Edge
Nintendo Land
SiNG PARTY
Sonic & All-Stars Racing Transformed
WARRIORS OROCHI 3 Hyper
Darksiders II
Assassin's Creed III
ESPN Sports Connection
Just Dance 4
Rabbids Land
Your Shape: Fitness Evolved 2013
ZombiU
Scribblenauts Unlimited
Game Party Champions
Batman: Arkham City Armored Edition
Madden NFL 13 – November
Trine 2: Director's Cut – November
Nano Assault Neo – November
Toki Tori 2 – November
Gennaio – Marzo 2013
NBA 2K13
007 Legends
Cabela's Dangerous Hunts 2013
Rapala Pro Bass Fishing
Rise of the Guardians: The Video Game
Ben 10 Omniverse
Family Party: 30 Great Games Obstacle Arcade
Mass Effect 3
LEGO City: Undercover
Pikmin 3
Wii Fit U
The Wonderful 101
Aliens: Colonial Marines
JEOPARDY!
Wheel of Fortune
Ricordiamo che in Italia la Wii U uscirà il 30 novembre in tre versioni: quella base da 8 GB a 299 euro, quella Deluxe da 32 GB a 349 euro, e la versione Deluxe con Zombie U Pack a 399 euro.