Dopo la notizia di qualche giorno fa, sulla possibilità di convertire console PS3 dalla versione CEX (retail,cioè in vendita nei negozi) a versione DEX ( versione Debug, riservata agli sviluppatori), oggi è stato rilasciato un comodo tool funzionante su sistemi Windows.
L'autore del software è 
andbey0nd.
Per ora funziona solo su PS3 con NOR da 16MB.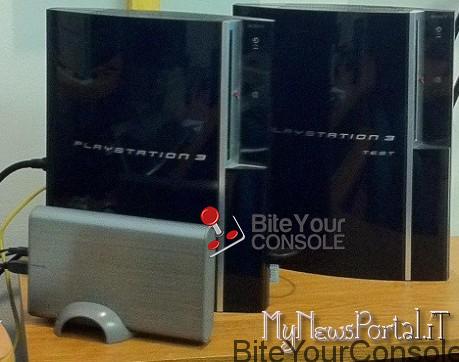 c2d.exe (win32 app)
===================

Requires:

* OpenSSL 1.0.1 installed in c:\openssl or d:\openssl (http://slproweb.com/download/Win32OpenS … 1_0_1c.exe)
* EID root key (per_console_key) obtained with metldrpwn
* CEX (NOR) flash dump
* Extract c2d.rar in a local folder (c:\c2d or d:\c2d)

Usage:

* c2d.exe eid_key_file.bin in_cex_flash.bin out_dex_flash.bin

Output:

c:\c2d> c2d.exe eid_root_key.bin flashCEX.bin flashDEX.bin

EID key : 48 bytes (eid_root_key.bin)
Flash size : 16 MB (flashCEX.bin)
Target ID : $85

EID ROOT KEY: 64D20967DEACDA16ACADBE289B0EE2C25EE77331A5040C5DC9 DF67B3FE574F6D
EID ROOT IV : 6BD7C324D3B213A647DC31987345595E

EID0 KEY : 9C1C4A93666EF67941F54679A7199D7553C8F0F50F3548C896 6D6872FC8CD668
EID0 IV : 2DC374E270F851EB0D524F89790F2563

EID0 SEC KEY: 4C40F3E244EF2BF29A9D48BE26FEEEEB

Target ID : $85 (from decrypted EID0 section)
CMAC HASH : F1053CC3818DD6CE2775F0273DFC212E

Writing modified flash (flashDEX.bin)…

Done!

Enjoy!
andbey0nd
sembra sia a prova di brick
<andbey0nd> works for 16MB flash dumps (NOR) only

<andbey0nd> also if for some reason a WRONG EID key is provided – the program will abort and will not generate invalid DEX flash.. so no chance for bricking

<andbey0nd> if an output DEX flash file is created – it means that it is valid
Quoto delle FAQ create da un utente di ipmart: Pockets69
Q: Possiamo avviare homebrew con questo su qualsiasi firmware?
A: si, basta utilizzare le SDK per signarlo
Q: E' possibile avviare i backups?
A: Si, tutti quelli che richiedono il 3.55 o inferiore.
Q: Possiamo avviare i backup che richiedono il 3.60+?
A: Si, se si riesce a decriptare i 3.60+ selfs, perciò NO, solo con eboot decryptati (come il TB).
Q: Possiamo avviare i giochi originali che richiedono il 3.60+?
A: Si, basta aggiornare e giocare.
Q: E' possibile andare in debugger mode, ed utilizzare le opzioni di debug?
A: Si.
Q: E' possibile accedere al PSN?
A: No.
Q: Si può downgradare senza un flasher?
A: Si, con il limite del firmware di fabbrica.