MultiMan , il famoso backup manager per PS3, si aggiorna alla versione 4.02.01, risolvendo problemi di velocità per il trasferimento tramite FTP.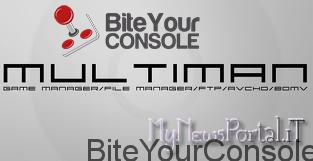 Di seguito la changelog.
 04.02.01 –
Here is a minor update for those who often use FTP and seek the best performance on the PS3 (mM Version 04.02.01):
* Improved FTP performance:
-> 95% of theoretical speed over 100Mbit connection (send/receive)
-> 90% of theoretical speed over 1Gbit connection (receive) (or 50% of max when sending to PS3)
* Improved /net_host performance
* Improved performance when copying files in File Manager mode (from/to internal/USB HDD)
* You can read about the FTP test results below:
* Moving files in file manager works if destination file exists
* Fixed caching thumbnails for retro ROMs from /net_host

Personal tests show that this version is faster than other PS3 FTP Servers:
Compared to previous versions: 6MB/s in 04.01.00, 8MB/s in 04.02.00 and 11.1MB/s in 04.02.01
– it doubles the 04.01 speed and it almost doubles blackbox and is ~4x/5x faster than openftp over 100MBit network
these tests (as it says: cables used CAT6 and CAT5E) are for wired setups.
Per l'eventuale download vi rimandiamo a questo link diretto—> DOWNLOAD