La notizia era nell'area già da qualche giorno, infatti dopo la notizia che il PSN avrebbe cambiato nome in SEN, molti si attendevano anche un nuovo aggiornamento di sistema. Aggiornamento che è arrivato e riporta molte novità che faranno felici i più appassionati.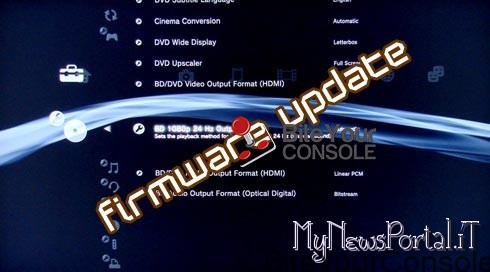 Andiamo a vedere tutte le novità introdotte in questo nuovo aggiornamento:
A new system software update (v4.10) for PlayStation 3 (PS3) will be released later today. Here is a summary of what it includes:

The Internet Browser has been improved. This will result in better display of content and page layouts are displayed with greater accuracy. Some websites that could not be displayed correctly prior to the release of PS3 system software 4.10, including interactive websites, are now supported.
You can automatically set the time more accurately via the Internet every time your PS3 system connects to PlayStation Network (PSN). This can be done via [Settings] > [Date and Time Settings] > [Set Automatically] on the XMB (XrossMediaBar).
PSN Account will be renamed Sony Entertainment Network Account. This will not result in any changes to how you log in or the details you use to do so.

In order to download PS3 system software version 4.10, you will need a minimum 180MB of free space on either the PS3 Hard Disk Drive (System Update) or on removable storage media (PC Update).
La prima novità è senza dubbio il miglioramento apportato al browser della PS3 (che lasciava a desiderare), sarà migliore il tempo di navigazione e il caricamento delle pagine, tutti i siti saranno visibili in modo chiaro e pulito e i contenuti delle pagine saranno più precisi e accurati.
Sarà possibile impostare automaticamente il tempo via Internet ogni volta che il sistema PS3 si connette a PlayStation Network (PSN). Questo può essere fatto tramite [Impostazioni]> [Impostazioni di data e ora]> [Imposta automaticamente] sulla XMB (XrossMediaBar).
Infine come oramai sappiamo il PSN sarà rinominato SEN:Sony Account Network Entertainment.
Il nuovo aggiornamento pesa 180 Mb.
A questo punto attendiamo conferme dai vari devoloper che lavorano sulla scena PS3 per capire se tale firmware ha bloccato gli exploit, per un eventuale jailbreak-CFW, presenti sul 4.0.
I nostri consigli sono sempre i soliti, è inutile restare al OFW4.0 con la speranza di un CFW su quel firmware, quindi meglio aggiornare e godersi a pieno le potenzialità che la console ci può offrire. Dall'altra parte chi è rimasto fermo al 3.55 o inferiori e utilizzano dongle o CFW, consigliamo di restare a tale firmware perchè non vediamo, in un futuro prossimo, una svolta concreta sulla scena PS3.
Appena avremo ulteriori notizie, che riguardano le eventuali smentite o conferme, dai vari personaggi che lavorano sulla scena vi aggiorneremo.
Stay Tuned!
PS3: rilasciato firmware 4.1… sarà stato bloccato anche il Jailbreak?
ultima modifica:
2012-02-08T11:23:08+01:00
da