Ebbene sì ragazzi , con questa piccola giuda vi mostreremo come istallare iOS 5 anche su dispositivi come iPhone 3G, 2G, iPod Touch 2G, 1G. Per chi oramai ha perso le speranze Whited00r ha trovato una soluzione al problema.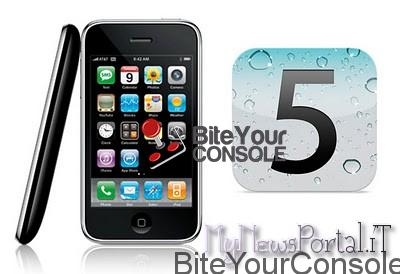 Come sappiamo i dispositivi sopra elencati non supportano l'ultimo aggiornamento del sistema operativo di casa Apple, ma Whited00r ha rilasciato una versione personalizzata di iOS 5 che supporta tali iDevices.
L'aggiornamento è gratuito e può essere installato facilmente utilizzando iTunes. Dobbiamo precisare che, essendo un sistema operativo personalizzato, si potrebbero presentare dei problemi di sicurezza una volta istallato, quindi eseguite la procedura a vostro rischio e pericolo. 
Andiamo a vedere la changelog:
YouTube certificates needed for hacktivated device
PNGs optimization for native apps and global GUI
Improved Brightness menu
New Touch Menu for user with problems to touch screen
Reset menu modded: reset a jailbroken device causes problems
Custom whited00r Copyright page
iOS5 animated Bootlogo ready for LogoMii (not installed by default)
iOS5 shadows included in default wallpapers (good looking without slow down the device)
Wallpaper on HomeScreen (thanks to Darlo770)
iOS4 wallpapers set by default (ready at the first boot)
iOS5.1 wallpapers included (ported from iPad firmware)
Fake wallpaper preview menu (thanks to iHalo)
Real multitasking: backgrounded apps keep in running state
Keep home button pressed to background
Old Backgrounder version without Activator dependance (faster and iOS3 stable)
Phone and Mail app really could be kept closed if not used (no autolaunch in background)
iPodControls on Multitasking dock (thanks to Darlo770)
Rotation Lock button on Multitasking dock (thanks to Darlo770)
Respring easter egg in Multitasking dock (swipe dock to extreme left)
Respring toggle in Settings-General menu
System sounds sounds from iOS5
All ringtones from iPhone4
TipToes and Calypso SMS sound from iOS4
Character Count for Message app
Custom carriers bundles (thanks to stbox for collaboration)
Carrier Bundles from iOS5
CommCenter patched to run Unsigned carrier bundles (thanks to stbox for collaboration)
CommCenter patched on iPhone 2G to enable MMS and Tethering
Custom tethering APN thanks to the possibility to use unsigned carrier bundles
GUI modded as much as possible to suite iOS4/iOS5 one without slow down the device
PNG in other.artwork modded (thanks to iHalo)
App glossy mask from iOS4 (thanks to iHalo)
iCould copy to save your App and Games saves on Dropbox and sync with other device
iCloud menu is Settings to provide quick usage instructions
Share on Twitter in Safari bookmarks
Reader (as iOS5 one) in Safari bookmarks
Find on Page in Safari Bookmarks
Safari Bookmarks to launch Official Apple AppStore
Many Bookmarklets in Safari Bookmarks
Alphanumeric Passcode Installer in Safari Bookmarks (Tools folder)
Shake to shuffle for iPod disabled by default
Mobile Terminal preinstalled
/var/mobile/Configurator custom script to enable/disabled features and speed up the device
/var/mobile/RemoveLanguages custom script to remove unused languages and get free space
/var/mobile/RemoveRetina custom script to remove all useless retina images and get free space
/var/mobile/RestoreInstalld custom script to restore App-In Purchase
/var/mobile/PatchInstalld custom script to restore AppSync patch (3Store)
Cycorder application preinstalled (thanks to Saurik) for the best video record quality
Video Editing for Video moved to Camera Roll
Reminders app preinstalled (thanks to Soltmeal)
Newsstand web oriented app to keep in touch with Whited00r community
Default icon position on first boot according to iOS5 one
No unified iPod for iPhone like in iOS5
Whited00r.deb for automatic script running post installation
Installd (AppSync) patch to enabled 3Store apps installation (we don't support piracy)
3Store alternative AppStore to find iOS3 compatible apps
Tutto quello che dovete fare è scaricare la versione per il vostro device (trovate il download qui) e ripristinare tramite iTunes. I
l team non ha fatto altro che realizzare un proprio IPSW che può essere installato tramite il normale iTunes e che mantiene tutte le caratteristiche di iOS 5 (tranne il Notification Center).
L'unica nota negativa da tener ben presente è l'impossibilità di usare Apple Store, problema risolvibile utilizzando iTunes.
Istallazione:
Dopo aver scaricato la versione compatibile con il vostro dispositivo, dovete scompattare il file che si presenterà sotto forma di zip.
Aprire iTunes
Cliccare su ripristina tenendo premuto ALT (mac) o SHIFT (windows)
Selezionare file whited00r (. ipsw)
ITunes ci chiederà se si desidera ripristinare da backup, noi scegliamo "configura nuovo iPhoneiPod"
Completare istallazione
Vi troverete con iOS 5 istallato sul vostro dispositivo.
Have Fun!
Istallare iOS 5 su iPhone 2G, 3G o iPod Touch 2G, 1G con Whited00r
ultima modifica:
2012-01-18T23:03:48+01:00
da