La nuova PlayStation portatile di casa Sony è uscita solo ieri sul territorio giapponese. Già da qualche settimana girano notizie che la console possa presto essere modificata dai vari hacker della scena. Non molto tempo fa sono stati rilasciati due programmi (PKG Extractor e FW Extractor) che permettono l'estrazione di file importanti ai fini di una modifica definitiva.
Oggi , ad un giorno di vita della console, ci arriva la prima immagine di un "Hello World".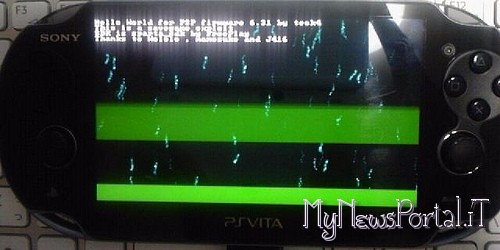 In pratica gli hacker che hanno eseguito tale procedura, sono riusciti ad entrare nel sistema della PS Vita grazie ad un exploit usato per modificare la PSP. Questo si può capire dal fatto che il firmware mostrato è il 6.31 (ultimo firmware della psp), mentre il firmware che monta la nuova console è 1.50.
Il fatto importante è…

che a solo dopo pochi giorni dal rilascio, PS Vita abbia già della vulnerabilità importanti tali da far pensare che Sony fosse presa da altri problemi (vedi scena PS3) e non abbia avuto il tempo necessario per testare la console a dovere.
C'è da dire che tale vulnerabilità non permette l'avvio dei backup ma , ad oggi, può solamente emulare i giochi della PSP.
L'hacker che ha eseguito tale procedura ha però affermato che per poter eseguire una vera e propria modifica sulla PS Vita ci vorrà ancora molto tempo, ma come si dice "chi ben inizia è a metà dell'opera".
Queste le parole del coder:
I read lot's of article around the world about this Hello World on Vita and I found so many "this is fake, right?"…No, this is not a fake. But you have to think this is inevitable result because of emulation.
And you can find "Hello World for PSP Firmware 6.31 by Teck4″ and say "Why 6.31?"
Teck4 have some savegame exploits. These were found when PSP lastest firmware was 6.31. He tried to run his unsigned code without any modification..including the letter "6.31″
That's why "6.31″ was displayed in his Hello World.
His exploit use buffer overflow of the system and, you know, what we call "Usemode exploit", So do not expect kernel hacking from it.
I know his exploit and I know he is not a faker. That's real. But I think this shows us that emulation tech on vita is brilliant, NOT "PS Vita is hackable!"
Restate sintonizzati per tutti i prossimi sviluppi sulla scena della nuovissima PS Vita.
PS Vita retro-compatibile con i giochi PSP
ultima modifica:
2011-12-18T23:47:59+01:00
da