Pubblicato Thimbleweed Park Vita, uno dei primi porting Android su console PlayStation Vita e PlayStation TV in grado di eseguire correttamente gli shader GLSL traducendoli automaticamente in linguaggio CG.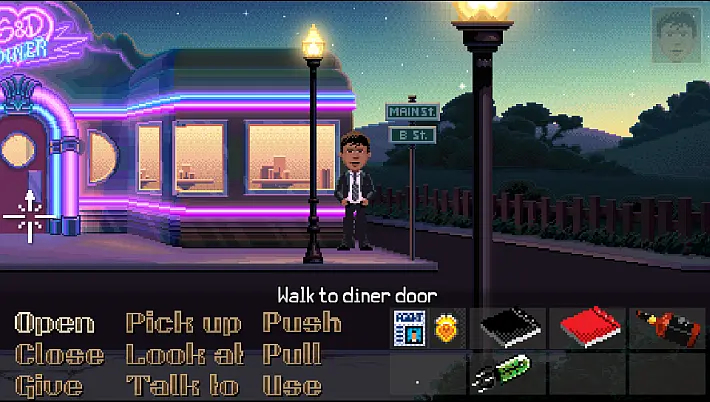 Questa nuova caratteristica renderà più accessibile lo sviluppo di applicazioni OpenGL su console PlayStation Vita e PlayStation TV.
The very first port running through the experimental GLSL translator is now available for download! https://t.co/HGLm5AsZAe

— Rinnegatamante (@Rinnegatamante) March 21, 2023
Probabile che i nuovi porting interesseranno anche titoli piuttosto datati, ma al contempo complessi e che lamentavano un notevole calo nelle prestazioni.
Breve sinossi
A Thimbleweed Park un cadavere è l'ultimo dei tuoi problemi. Usa cinque personaggi giocabili per scoprire i surreali segreti di questa strana città, in un moderno e misterioso gioco di avventura dai creatori di Monkey Island e Maniac Mansion. Più indaghi, più la storia diventa bizzarra.
Configurazione
Per installare correttamente il gioco, dovrai seguire esattamente questi passaggi:
*KERNEL
ux0:tai/kubridge.skprx
ux0:tai/fd_fix.skprx
[stextbox id='info']Nota: Non installare il plugin fd_fix.skprx se si sta già utilizzando il plugin repatch.[/stextbox]
Installazione
Opzionale: Installare PSVshell per overcloccare il dispositivo a 500 Mhz.
Installare libshacccg.suprx, se non lo hai già, seguendo questa guida.
Scaricare e installare il file .vpk sulla console.
Ottenere legalmente una copia di Thimbleweed Park per Android sotto forma di un file .apk e un file .obb. Puoi ottenere tutti i file richiesti direttamente dal telefono o utilizzando un estrattore di apk che puoi trovare nel Play Store. L'apk può essere estratto con l'estrattore Zip che preferisci (es: WinZip, WinRar, ecc…) poiché l'apk è fondamentalmente un file zip. Puoi rinominare .apk in .zip per aprirli con l'estrattore zip predefinito.
Estrarre il file libThimbleweedPark.so dalla directory lib/armeabi-v7a in ux0:data/thimbleweed.
Inserire il file .obb in ux0:data/thimbleweed rinominandolo in main.obb.
Download: Thimbleweed Park Vita v1.0
Download: Source code Thimbleweed Park Vita v1.0
Fonte: twitter.com