Pubblicato un nuovo e interessantissimo aggiornamento per GoldHEN Cheats Manager, il tool sviluppato dal developer Bucanero, oltre a permetterci di selezionare trucchi per imbrogliare sui giochi della console PlayStation 4, ci permette di applicare direttamente le patch realizzate dal developer illusion0001.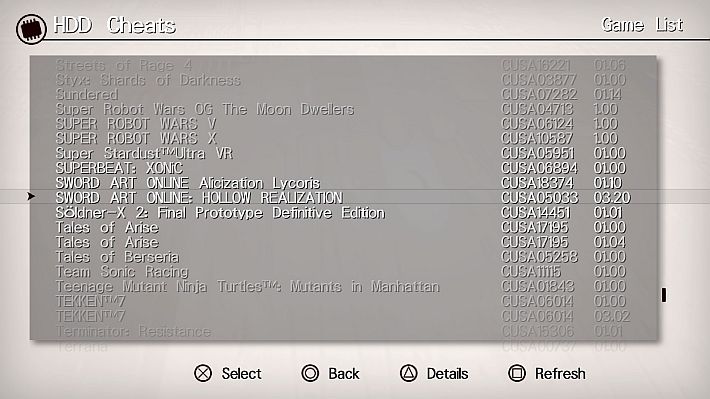 GoldHEN Cheats Manager si dimostra simile per certi versi ad Artemis su PS3. Non è necessaria alcuna configurazione particolare, basta scaricare il file PKG e installarlo sulla console PlayStation 4. Al primo avvio, l'applicazione rileverà e configurerà automaticamente tutte le impostazioni richieste.
GoldHEN Cheats Manager v1.0.0 is ready! ⭐️ Now with game patch support, MC4 cheats, online updates, and more 🕹️ Download it from https://t.co/owsZE5VfYx
If you enjoy my work, check my PayPal link on GitHub

— Damián Parrino (@dparrino) November 12, 2022
Guida
Muoversi e per selezionare il file cheat che si desidera visualizzare e premere il pulsante . La schermata dell'elenco dei trucchi mostrerà i codici disponibili per il gioco.
Per visualizzare i dettagli dell'articolo, premere . Si aprirà il menu contestuale sullo schermo. Premere il pulsante per tornare all'elenco.
Per ricaricare l'elenco, premere .
Premere i pulsanti di attivazione / o / per spostare le pagine in alto o in basso.
Database online
L'applicazione fornisce anche l'accesso diretto a Online Cheat database, la repository ufficiale di GoldHEN contenente i trucchi per i giochi della PlayStation 4.
Changelog
Aggiunto
Supporto per patch di gioco (@illusion0001).

Elenca le patch disponibili.
Abilita/Disabilita le patch.
Aggiorna le ultime patch dal Web.

Supporto per il formato cheat MC4.

Elenca i trucchi disponibili.
Aggiorna i file cheat .mc4 dal Web.

Nuova impostazione "File Overwrite".

Consente di sovrascrivere i file cheat correnti con quelli aggiornati.
Modifiche
Codice di rete aggiornato a libcurl (grazie a @LightningMods).
Miglioramenti visivi, icone, sfondo (grazie a Chronoss).
Correzioni
Corretti problemi di connessione di rete.
Corretto il problema con il rilevamento della versione per alcuni titoli "remaster".
Download: GoldHEN Cheats Manager v1.0.0
Download: Source code GoldHEN Cheats Manager v1.0.0
Fonte: twitter.com