Il developer Balázs Triszka (alias balika011), già autore di alcuni aggiornamenti di Despertar del Cementerio, pubblica una nuova versione di J-Runner per console Xbox 360.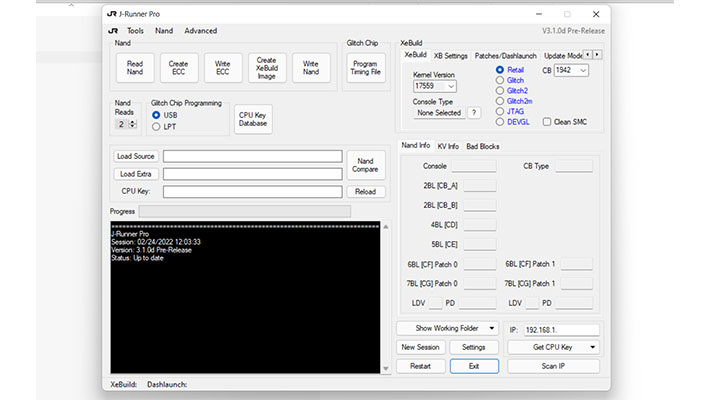 J-Runner, qui ribattezzata come J-Runner Pro, è una semplice GUI che utilizza Xebuild e Xell-reloaded. Lo script in Python è stato sostituito con codice all'interno della GUI.
Surprise! Three releases in one day! J-Runner 3.2.0 and PicoFlasher 3.0 is out, now with EMMC read and write support. So you can flash your Corona 4GB consoles with the Pico as well! https://t.co/iY1GnopFpV https://t.co/PBWfCd257v

— Balázs Triszka (@balika011) February 23, 2022
Il tool consente la creazione di immagini JTAG, Glitch e Retail. Non necessita di Nandpro mentre il tool è stato progettato per essere utilizzato con Nand-X/JR-Programmer e TX CoolRunner.
PicoRGH! Raspberry Pi Pico as an RGH 1.2 glitch chip on an Xbox 360 Slim Trinity board! https://t.co/UXSSooSaPn pic.twitter.com/DiHXd8NIAd

— Balázs Triszka (@balika011) February 23, 2022
L'obiettivo dello sviluppatore è quello di rendere J-Runner Pro completamente open source con il supporto di PicoFlasher, il piccolo programmino per Raspberry Pico che permette di flashare il firmware NAND della console Xbox 360.
Changelog v3.2.0
PicoFlasher V3 ora supporto in lettura e scrittura emmc.
Changelog v3.1.0d2 hotfix
Corretto l'arresto anomalo quando PicoFlasher non riesce a leggere la configurazione flash.
Changelog v3.1.0d
Supporto per PicoFlasher.
Aggiornamento a .NET Framework 4.8.
Molte correzioni di bug.
Correzioni di bug minori.
Download: J-Runner Pro v3.2.0
Download: Source code J-Runner Pro v3.2.0
Fonte: twitter.com