Gli abbonati ad Amazon Prime nell'ultimo mese dell'anno avranno modo di riscattare e scaricare su PC titoli del calibro di Need for Speed Hot Pursuit, Football Manager 2021 e Tales of Monkey Island Complete Pack.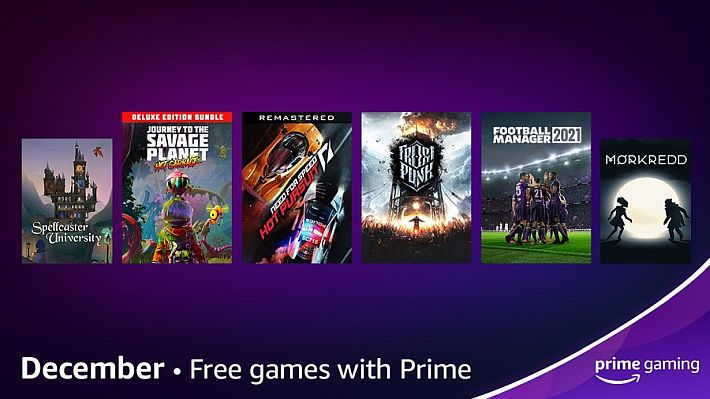 Prime Gaming è l'esperienza premium di Twitch inclusa per gli abbonati di Amazon Prime e Prime Video. I titoli verranno affiancati anche da diversi oggetti di gioco per Battlefield 2042, Apex Legends, Fall Guys, Genshin Impact e tanti altri.
Giochi gratuiti con Prime
Need for Speed ​​Hot Pursuit
I giocatori sono chiamati a vivere un'esperienza di corsa al cardiopalma che irradia il brivido dell'inseguimento e la corsa alla fuga mentre saltano dietro le ruote delle auto ad alte prestazioni più belle del mondo.
Frostpunk
Governa l'ultima città sulla Terra gestendo sia i suoi cittadini che le sue infrastrutture in questo gioco di sopravvivenza di società da studi a 11 bit.
Journey to the Savage Planet
In qualità di nuova recluta di Kindred Aerospace, la quarta migliore compagnia di esplorazione spaziale interstellare, i giocatori determineranno se il pianeta ARY-26 è adatto per gli umani con esperienza ed equipaggiamento limitati. Buona fortuna!
Football Manager 2021
In questa esperienza manageriale dinamica e realistica, i giocatori sono incoraggiati a sviluppare abilità e comandare il successo per diventare il cuore pulsante di ogni squadra di calcio mentre si sforzano di raggiungere uno status manageriale d'élite.
Morkredd
In questo gioco di puzzle cooperativo basato sulla fisica, i giocatori devono padroneggiare gli esclusivi controlli a doppio personaggio e dimostrare la loro lealtà mentre sbloccano un mondo di oscuri segreti e scoprono un difficile equilibrio di luci e ombre.
Spellcaster University
I giocatori possono assumere il ruolo di direttore in una magica università immersa in un colorato mondo di eroiche fantasie. In qualità di regista, i giocatori devono costruire stanze, addestrare studenti, combattere orchi, uccidere i burocrati e gestire un budget… e attenzione, la vita di un regista non è tranquilla.
Youtubers Life
Crea video, guadagna iscritti, partecipa a eventi, interagisci con i fan e fai crescere un canale mentre i giocatori si sforzano di diventare lo YouTuber di maggior successo del pianeta!
Stubbs the Zombie in Rebel Without a Pulse
Viaggia indietro nel tempo fino al 1959 nella città di Punchbowl, PA., dove la legge e l'ordine non possono competere con un uomo morto in missione.
Pacchetto completo Tales of Monkey Island
Spoglia esplosivamente il malvagio pirata LeChuck del suo mojo demoniaco, mentre i giocatori assumono il ruolo di Guybrush Threepwood che inavvertitamente infetta l'intero Caraibi con il vudù espulso dall'arcidiavolo, che minaccia di trasformare i bucanieri in mostri pirati ribelli.
Fonte: primegaming.blog
I titoli Prime Gaming gratuiti di Dicembre includono Need for Speed Hot Pursuit, Football Manager 2021 e Tales of Monkey Island Complete Pack
ultima modifica:
2021-11-22T18:58:18+01:00
da