Il developer Mips96 (aka GateGuy su alcuni siti) ha sviluppato una nuova versione del Sudoku realizzato in C++ e SDL2 su console PlayStation Vita, Nintendo Switch e Wii U (oltre che su PC Windows x86/x64).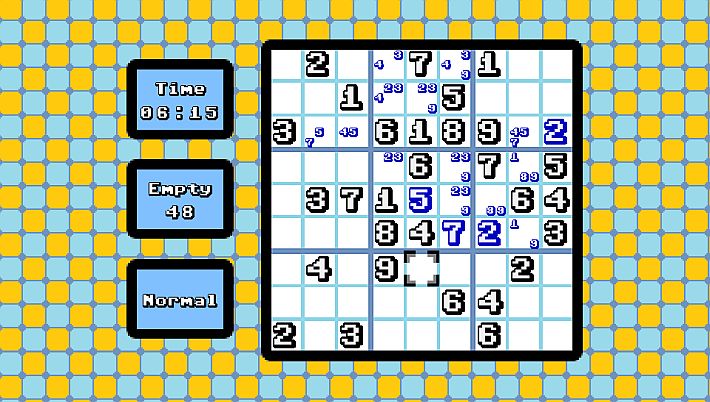 SuDokuL sfrutta un algoritmo capace di generare automaticamente una infinità di griglie con celle e numeri diversi per ogni partita, il gioco supporta anche mouse, tastiera, controller e touch screen.
SuDokuL v.1.11 by Mips96 can now be downloaded from VitaDB, VHBB or EasyVPK! More info is available here: https://t.co/KbUJPpYlMJ pic.twitter.com/wxuSvQ6OK2

— VitaDB (@VitaDB1) October 11, 2021
Caratteristiche
Gioca a Sudoku di difficoltà Easy, Normal, Hard, o Very Hard.

Questi puzzle sono generati su richiesta utilizzando un algoritmo integrato; tuttavia, per eliminare il tempo di calcolo sui dispositivi più deboli, i puzzle Hard e Very Hard sono stati pre-generati.

Supporto per mouse, tastiera, controller e touch screen.
Supporta molte opzioni di risoluzione che vanno da 320×240 a 5120×2160.
Sfondo a scorrimento con impostazioni personalizzabili (dimensioni, velocità di scorrimento, angolazione).
Musica MOD calma e tonificante per adattarsi al tuo umore.
Testo ombreggiato per un bell'aspetto 3D.
Corre su una patata.
Trucchi di riempimento automatico facoltativo, nel caso in cui rimani bloccato.
Changelog v1.11
Testo blu modificato in modo che non appaia così tanto.
Impostazione finestra disabilitata su console (non ha fatto nulla su Wii U e Vita comunque).
Il testo "Press _ to Quit" è stato modificato per renderlo coerente su tutte le piattaforme.
Corretto un bug esclusivo su Switch nelle impostazioni video.
Download: SuDokuL v1.11 (Vita)
Download: SuDokuL v1.11 (Switch)
Download: SuDokuL v1.11 (WiiU)
Download: SuDokuL v1.11 (x64)
Download: SuDokuL v1.11 (x86)
Download: Source code SuDokuL v1.11
Fonte: twitter.com
Rilasciato SuDokuL v1.11 per console PlayStation Vita, Nintendo Switch e Wii U (oltre che su PC Windows x86/x64)
ultima modifica:
2021-10-11T18:44:41+02:00
da