Microsoft ha annunciato i titoli della Games with Gold per il mese di agosto, già da domenica gli utenti abbonati potranno divertirsi con Darksiders III e Lost Planet 3, quest'ultimo uscito su console Xbox 360.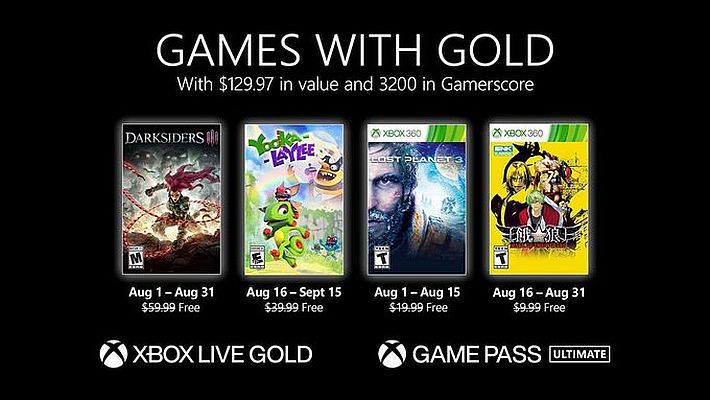 Dal 16 agosto al 15 settembre sarà possibile scaricare invece Yooka-Laylee, mentre sempre dallo stesso giorno Lost Planet 3 verrà sostituito da Garou: Mark of the Wolves che potrà essere scaricato gratuitamente fino al prossimo 31 agosto.
Darksiders III
In questa avventura d'azione hack-and-slash, assumi il ruolo di Fury, uno dei quattro cavalieri dell'Apocalisse, nella sua ricerca per dare la caccia ai sette peccati capitali. Esplora un mondo vivo e aperto e usa la frusta e la magia per ripristinare l'equilibrio tra il bene e il male.
Yooka-Laylee
Esplora mondi enormi e meravigliosi e incontra un cast di personaggi indimenticabili. Nei panni del duo di amici, Yooka e Laylee, intraprende un'epica ricerca per contrastare il cattivo aziendale, Capital B, e il suo subdolo piano per assorbire tutta la letteratura mondiale.
Lost Planet 3
Approfondisci la storia dell'universo di Lost Planet. In questo prequel delle voci precedenti, rivivi le avventure di Jim Peyton mentre rivela le verità nascoste negli ambienti di E.D.N. III, in un'esperienza per giocatore singolo molto avvincente.
Garou: Mark of the Wolves
Come ultimo capitolo della serie classica di Fatal Fury, seleziona più di una dozzina di combattenti diversi per partecipare al torneo King of Fighters: Maximum Mayhem.
Con il T.O.P. sistema di combattimento e una meccanica di difesa e contropiede, dimostra al tuo avversario che le leggende non muoiono… migliorano!
Fonte: news.xbox.com
Microsoft annuncia i Games with Gold di agosto per Xbox 360 e Xbox One
ultima modifica:
2021-07-28T18:57:16+02:00
da