Microsoft ha annunciato i titoli della Games with Gold per il mese di luglio, già da giovedì gli utenti abbonati potranno divertirsi con Planet Alpha e Conker: Live & Reloaded, quest'ultimo uscito sulla prima Xbox.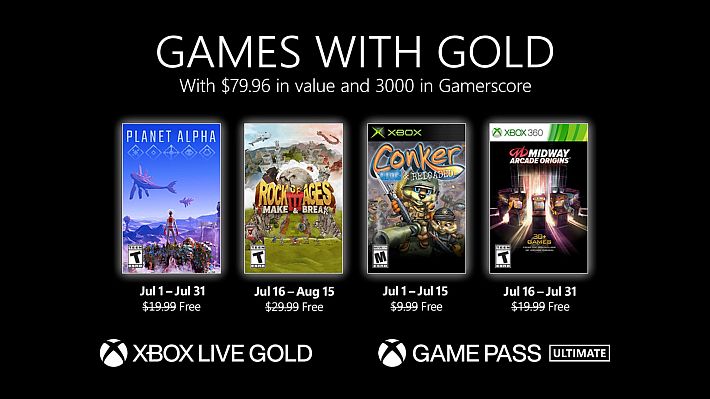 Dal 16 luglio al 15 agosto sarà possibile scaricare invece Rock of Ages 3: Make & Break, mentre sempre dallo stesso giorno Conker: Live & Reloaded verrà sostituito da Midway Arcade Origins che potrà essere scaricato gratuitamente su fino al prossimo 31 luglio.
Planet Alpha
Sopravvivi su uno strano pianeta pieno di pericoli e misteri. Abbandonato e solo, avventurati attraverso la bellissima terra straniera e svela i suoi numerosi segreti nascosti. Con nemici implacabili che ti inseguono, sfrutta il potere della notte e del giorno nella tua lotta per rimanere in vita in questo mondo alieno.
Rock of Ages 3: Make & Break
Tuffati in una storia tentacolare e sconvolgente con interpretazioni bizzarre e assurde di personaggi leggendari. Progetta, costruisci e condividi i tuoi livelli personalizzati con gli amici in questo gioco arcade e di difesa della torre in stile Monty Python.
Conker: Live & Reloaded
Tornato con i postumi di una sbornia e una forte dose di atteggiamento, gioca al famigerato scoiattolo dei videogiochi, Conker, in un mondo volgare pieno di personaggi contorti, allusioni e parodie di film scandalose.
Midway Arcade Origins
Con più di 30 voci senza tempo dell'età d'oro dei giochi arcade, rivivi la tua infanzia o scopri i giochi classici per la prima volta, come Defender, Gauntlet, Rampart e altri. Non servono quarti per giocare!
Fonte: news.xbox.com