Disponibile un nuovo aggiornamento per l'app Android 6.72 ps4 exploit host, l'applicazione se correttamente eseguita ci permetterà di caricare il jailbreak e iniettare payload su console PlayStation 4 e PlayStation 4 Pro montanti firmware 6.72.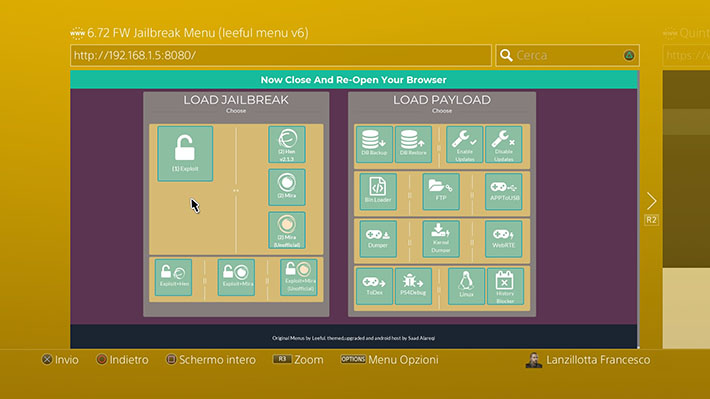 Questa nuova versione si limita a correggere i problemi dell'hotspot e l'impossibilità di installare l'app in alcuni dispositivi, mentre viene introdotto il supporto per Payload Sender.
Updated android 6.72 exploit host (@leeful74) web to 1.3.0
-Fixed hotspot issues for some devices.
-Fixed not being able to install in some devices
-Added payload sender support
-improved Simple menu
@PS3NewsDOTcom @Joonie86#PS4EXPLOIT#ps4jailbreak
Herehttps://t.co/BPrDKR1q2Z

— SAlareqi (@SaadAlareqi) August 22, 2020
[stextbox id='info']Nota: Per installare il file APK bisogna attivare l'installazione di applicazioni da "Origini sconosciute", l'opzione può essere trovata all'interno della scheda Sicurezza nelle Impostazioni di Android.[/stextbox]
Guida
Scaricare e installare il file .apk sul proprio dispositivo Android.
Eseguire l'applicazione, scegliere un host da Leeful v2 a Leeful v6 e cliccare sul pulsante rosso OFF.
Il pulsante diventerà verde e in basso apparirà un indirizzo IP che dovrà essere digitato sul browser web della console PlayStation 4.
Changelog
Corretti i problemi dell'hotspot per alcuni dispositivi.
Corretta l'impossibilità di installazione in alcuni dispositivi (con la speranza che coprirà la maggior parte senza problemi).
Aggiunto il supporto per Payload Sender (fare clic nell'angolo in alto a destra su 3 punti).
Download: 6.72 ps4 exploit host v1.3
Download: Source code 6.72 ps4 exploit host v1.3
Fonte: twitter.com