Disponibile un nuovo aggiornamento per Vita Fighters, il picchiaduro sviluppato dal developer AngryDevs originariamente per console PlayStation Vita, e che ora continua la sua corsa sui dispositivi Android e iOS.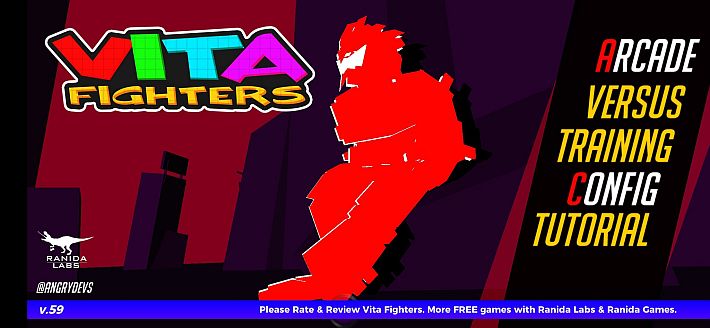 L'aggiornamento ha introdotto due nuovi personaggi, Jehuty e Lawrence, insieme ad una manciata di nuove meccaniche di gioco conosciute come Quickstand, ForwardRoll, BackRoll e Reversal.
Vita Fighters v.68
New Characters: Jehuty and Lawrence!
New Mechanics:
– Quickstand, ForwardRoll, BackRoll
– Reversal
– New Titan moves
– Character Tweaks and more
Android: https://t.co/KNro1D5Lh0
IOS: https://t.co/VIliYfPDHm#mobilegames #android #ios #fightinggames #FGC pic.twitter.com/sTM0d9C9TH

— AngryDevs (@AngryDevs) April 16, 2021
Il gioco presenta cast in stile blocco e un gameplay crossover di classici giochi di combattimento e personaggi degli anime con enfasi su ottimi controlli, competitività e semplice stile artistico.
Scegli tra gli 20 diversi personaggi giocabili basati su diversi archetipi di giochi di combattimento e sconfiggi il boss finale Meaty Titan. In futuro verranno sbloccati più personaggi, boss e livelli.
Caratteristiche
20 personaggi.
10 diversi sfondi.
Titanic Boss Fight.
Nessun scorrimento, nessuna mossa dipendente dal recupero.
Supporto touch e controller.
Meccaniche di gioco di combattimento semplici.
Grafica di nuova generazione.
Nessuna pubblicità forzata.
Altri contenuti da aggiungere in futuro.
Changelog
Nuovi personaggi: Jehuty e Lawrence!
Nuove meccaniche:

Quickstand, premi o mentre sei in basso.
ForwardRoll, premi mentre sei in basso.
BackRoll, premi mentre sei in basso.
Reversal, premi S mentre stai bloccando.

Gli avversari ora possono guadagnare misuratore di potenza quando vengono colpiti con attacchi L (accovacciato, in piedi, in aria).
Rimosso il ridimensionamento del danno degli attacchi H (test).
Hitbox aggiornate, parametri delle mosse per la maggior parte dei giocatori, effetti sonori.
Nuove mosse di Titan.
[stextbox id='info']Nota: Per utilizzare un gamepad andare su config -> controls -> premere Assign Controller -> premere un pulsante sul gamepad.[/stextbox]


Fonte: twitter.com