Sony annuncia sul PlayStation Blog la promo Days of Play, 11 giorni di forti sconti su accessori, console e videogiochi presso i rivenditori aderenti all'iniziativa.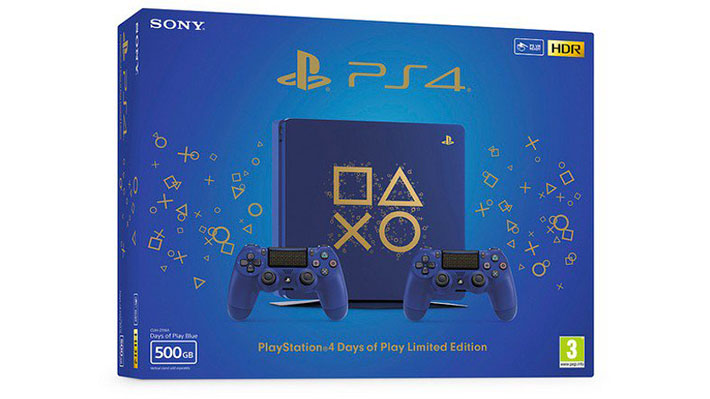 La promozione avrà inizio giorno 8 giugno, a distanza di pochi giorni dall'inizio della fiera E3 2018. Questo stesso giorno sarà disponibile per l'acquisto un nuovo modello di PlayStation 4 Slim in edizione limitata Days of Play, di colore Blue e con l'iconico simbolo PlayStation in oro.
La confezione conterrà anche due controller wireless DUALSHOCK 4, anch'essi con i simboli PlayStation in oro sul touch pad. PS4 speciale Days of Play. La console verrà venduta al prezzo di € 299,99.
In basso vengono riportate solo alcune delle promozioni disponibili, mentre all'estero hanno confermato un taglio prezzo anche per l'acquisto della PlayStation 4 Pro a 349,90 dollari.
Edizione limitata PS4 Days of Play con due controller wireless € 299,99 RRP 

PS VR Starter Pack con pacchetto software aggiuntivo € 249,99 RRP

DualShock 4 e Limited Edition DualShock 4 a partire da 39,99 € RRP

God Of War per € 49,99 RRP

GT Sport per € 19,99 PVP

Shadow of the Colossus per € 19,99 PVP

Uncharted: Lost Legacy per € 19,99

Horizon Zero Dawn Complete Edition per € 29,99 RRP

Uncharted 4 per € 19,99

Giochi PS VR a partire da 19,99 € PVP

E altro ancora
Sempre a partire dall'8 giugno si renderanno disponibili anche ulteriori sconti sul PlayStation Store. Per celebrare la vendita di Days of Play, Sony quest'anno ha organizzato un concorso Days of Play che darà la possibilità di vincere:
Una Days of Play in edizione limitata PlayStation 4 da 500 GB, con due controller corrispondenti.

Uno Starter Pack per PlayStation VR (che include cuffie PS VR, PlayStation Camera e un codice voucher per PlayStation Store per PlayStation VR Worlds).

12 mesi di abbonamento a PlayStation Plus.

12 x € 70 di credito per PlayStation Store – consegnato in 12 rate mensili.
Per avere la possibilità di vincere, dovrete registrare il vostro interesse a partecipare sul sito playstation.com, unico requisito, vincere almeno un trofeo in qualsiasi gioco oppure giocare ogni giorno della promozione Days of Play.
Dopo un turno di spareggio, ci sarà un vincitore per ogni paese che prenderà parte e tre secondi fortunati che riceveranno un abbonamento di 12 mesi a PlayStation Plus.
La registrazione è aperta a tutti e si chiuderà la mattina del giorno 8 giugno.