EA Mobile ha rilasciato un nuovo gioco di Star Wars dal titolo Galaxy of Heroes, un classico RPG a turni dove i giocatori dovranno raccogliere e collezionare alcuni personaggi della Famosa saga.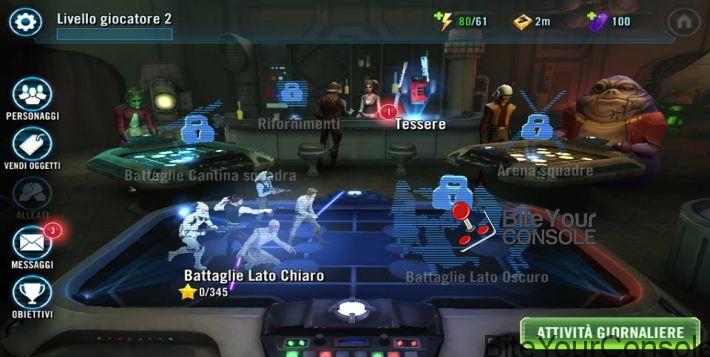 Potrete scegliere tra due modalità di gioco, formando la vostra squadra come il Lato Chiaro o il Lato Oscuro, a seconda della scelta si potranno collezionare diversi personaggi come Hoth, Bespin, Tatooine, Geonosis e così via.
Schiera i tuoi personaggi sul campo di battaglia e affronta combattimenti  per far salire di livello la tua squadra, è importante elaborare una buona strategia.
Star Wars: Galaxy of Heroes pesa solo 33 MB ma sembra ricco di contenuti, il titolo inoltre e Free to Play con acquisti in-app.
Novità
Nel PvP lo svolgimento automatico delle battaglie ora è opzionale ma fai attenzione, abbiamo anche migliorato l'IA degli avversari!
Vinci dei premi giornalieri, basati sulla tua posizione in classifica.
Scopri ciò che c'è da sapere sui personaggi della Cantina, mentre ti rivelano tutto ciò di cui sono a conoscenza.
Download: Star Wars: Galaxy of Heroes (Google Play)
[Scena Mobile] Rilasciato Star Wars: Galaxy of Heroes
ultima modifica:
2015-11-24T22:34:16+01:00
da