Acrivision Blizzard ha recentemente annunciato la data di uscita ufficiale di Mists Of Pandaria, la nuova espansione di World Of Warcraft che arriva quasi due anni dopo il rilascio di Catacltsm pubblicato alla fine del 2010. Mists of Pandaria sarà disponibile per PC e Mac a partire dal 25 settembre 2012 in diverse versioni..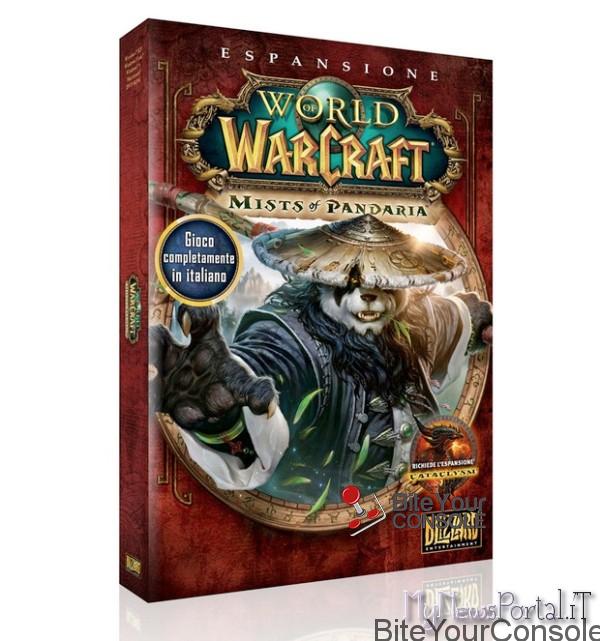 La versione standard conterrà il gioco per PC e Mac e costerà 34,99€, questa versione sarà disponibile sia in versione retail che in formato digitale. Sono previste inoltre ben due collector's edition: una destinata al mercato digitale al prezzo di 49,99€ e una in vendita in versione retail al costo di 69,99€.
World Of Warcraft Digital Deluxe Edition
World Of Warcraft Mists Of Pandaria: copia digitale per PC e Mac.
Cavalcatura di World of Warcraft: esplora i cieli di Azeroth in sella alla Quilen Imperiale.
Mascotte di World Of Warcraft: esplora Pandaria con il cucciolo di Quilen Portafortuna al tuo fianco.
Ritratti di StarCraft 2 per Battle.net: porta l'eterna rivalità tra Orda e Alleanza ai confini del settore Koprulu con gli esclusivi ritratti per Battle.net dell'Orco Infestato e dell'Elfo della Notte Templare.
Stemma e fregio per lo stendardo di Diablo 3: dimostra di essere un vero eroe di Pandaria con i simboli unici della nuova razza di World Of Warcraft, i pandaren.
Edizione da collezione World Of Warcraft
Una copia di Mists Of Pandaria per PC e Mac.
DVD e Blu-Ray "Dietro le quinte": scopri tutto ciò che c'è da sapere sulla creazione di Pandaria con questi due dischi, oltre un'ora di commenti speciali e interviste con gli sviluppatori.
Colonna sonora in formato CD: 20 brani orchestrali di  Mists of Pandaria.
Artbook "L'arte di Mists Of Pandaria": bozzetti e render 3D mai visti prima attraverso le 208 pagine di questo volume esclusivo.
Tappetino per il mouse di Chen Triplo Malto.
A questo punto non resta che recarsi dal proprio rivenditore di fiducia e prenotare questa nuova espansione che ricordiamo sarà disponibile dal 25 settembre 2012.
Annunciata la data di uscita di WoW Mists of Pandaria
ultima modifica:
2012-07-26T09:21:14+02:00
da