Qualche tempo fa vi avevamo già parlato di tale progetto. Oggi arriva la comunicazione ufficiale da parte degli sviluppatori del E3 flasher. Per chi non conosce l'E3 flasher è uno strumento usato per eseguire il downgrade della PS3. Il nuovo strumento permetterà di eseguire un doppio downgrade.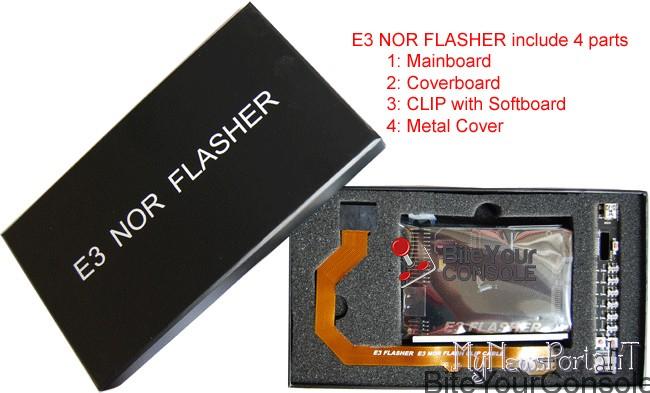 Il team ha rilasciato anche una guida in PDF per tutti gli utenti finali.
Ma andiamo a conoscere tutte le caratteristiche del nuovo strumento:
1: New mainboard Fast dual boot successfully with E3 FLASHER.

2: E3 Flasher Fast dual boot and downgrade OFW4.11 to 3.55 successfully, it's same way as downgrade 3.73 to 3.55.

We suggest user upgrade to OFW4.11 and then downgrade to 3.55 from now on. And don't forget backup your OFW4.11 bios well.

3: Downgrade to OFW3.41 from CFW3.55CHECKOFF successfully, tested by E3TEAM.

Now you can enjoy any 3.55FW by this way (downgrade to OFW3.41 and then upgrade to 3.55, include JB2CFW3.55, OFW3.55 and others).
Con tale strumento è possibile eseguire il downgrade da OFW (original firmware) 4.11 a 3.55 senza nessun rischio, è inoltre possibile eseguire la procedura da firmware 3.73 al "famoso" 3.55.
Il punto 3 dice che l'E3TEAM ha testato e ha scoperto che si piò fare il downgrade da CFW 3.55 a OFW 3.41 (sembra senza rischio di brick!!!).
Naturalmente tale procedura è consigliata solo a coloro che hanno dimestichezza nell' aprire la console.
Il Team ha rilasciato uno schema per tutti coloro che vogliono cimentarsi nell'impresa, potete trovarlo a questo link—-> LINK
Per tutti coloro che vogliono avvicinarsi per la prima volta al flasher c'è anche una guida completa per l'istallazione del E3 Flasher che potete trovare a questo link—>Link
Have Fun
"Fast Dual Boot" rilasciato per E3 flasher
ultima modifica:
2012-02-27T16:33:00+01:00
da