Sono state rese note le varie caratteristiche del nuovo chip Xecuter Demon creato dall'oramai famoso Team Xecuter. Il dispositivo permetterà di avere un Dual Nand su tutte le XBox 360, anche quelle di nuova generazione come le Slim. Il Dual Nand permette di avere due sistemi ben definiti, sarà possibile utilizzare una NAND originale e una modificata con RGH.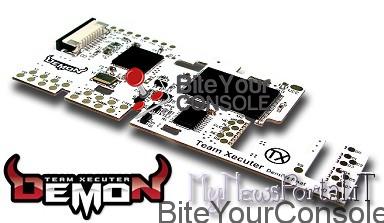 Ecco alcune caratteristiche:
NextGen Dual Nand Device
Easy Switch Between Stock Onboard Nand and Custom Nand
Easy QSB Solution (Quick Solder Board)
Easy Wire Install Option Also Available
Both Phat & Slim Versions
Support 16MB & 256MB / 512MB (Big Block) Nand Versions
Original Brand Nand to Match Stock For Security & Compatibility
Built-In USB Nand Read/Write Hardware (NAND-X / Other SPI Hardware Not Required)
Turbo Nand R/W Mode (16MB Dump less than 20 seconds)
TX CoolRunner Options
Supports Phat JTAG Installs (Inc All TX QSB JTAG Kits)
Supports Phat & Slim RGH Installs (Inc TX CoolRunner QSB Kits)
No Lifting of CE Pin on Both Phat & Slim
No Trace Cuts on Both Phat & Slim
Custom Software & Drivers
100% J-Runner Support
Proven Xecuter Build Quality & Warranty
More Premium Features Will Be Announced Very Soon……
Lo strumento non è ancora concluso, il Team Xecuter lo sta distribuendo ai vari developer per risolvere ogni bug e problema che verrà riscontrato.
Non appena verrà rilasciato sul mercato vi aggiorneremo, intanto vi rimandiamo al sito ufficiale del Team di sviluppo—->
LINK