Il developer Matt (alias withLogic) ripropone Water Closet su console PlayStation Vita e PlayStation TV, il simpaticissimo quanto buffo puzzle game 2D dove bisogna guidare il piccolo omino attraverso una serie di fasi mentre tenta di tornare a casa da un mondo bizzarro in cui è rimasto intrappolato.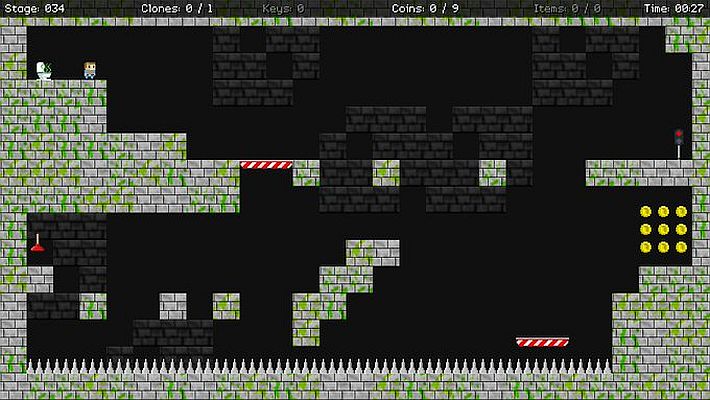 L'aggiornamento che non ha comportato il cambio di versione si è limitato a correggere un problema nell'impossibilità di salvare il gioco.
Mentre masticava una lasagna semicongelata e scaduta che ha comprato al discount in fondo alla strada dopo 10 pinte al Crown and Lion, Walter Chambers si è ritrovato in uno strano mondo che assomiglia a un sistema fognario.
Water Closet v.1.0 by withLogic can now be downloaded from VitaDB, VHBB or EasyVPK! More info is available here: https://t.co/NpbATix2TZ pic.twitter.com/G4L9p2Zhlc

— VitaDB (@VitaDB1) January 9, 2022
Il cibo che ha mangiato lo ha in qualche modo trasportato in una dimensione alternativa o ha le allucinazioni.
Qualunque cosa sia successa, sa solo che deve fuggire da questo posto bizzarro, e c'è solo una via d'uscita: nel water (come quel pezzo di Trainspotting).
Fortunatamente, Walter ha una serie di assi nella manica, di cui dovrà fare uso se vuole tornare a casa in tempo per dare da mangiare al suo gatto e scoprire come finisce Game of Thrones.
Caratteristiche
Divertimento platform 2D.

65 livelli totali.

Gameplay basato su puzzle.
Crea cloni per ripetere le tue azioni passate.
Rigioca i livelli per raccogliere tutte le monete e gli oggetti.
Supporto Joypad e tasti riconfigurabili.
Changelog
Corretto il problema con l'impossibilità di salvare il gioco.
Note
Il codice sorgente di questo gioco è concesso in licenza con GNU GPL 3.0. I file grafici e di dati (gfx e data) sono concessi in licenza con Creative Commons BY-NC-SA 3.0, con la seguente attribuzione: Copyright 2019, Parallel Realities | www.parallelrealities.co.uk.
Download: Water Closet v1.0
Download: Source code Water Closet v1.0
Fonte: twitter.com
[Scena PS Vita] Rilasciato Water Closet v1.0
ultima modifica:
2022-01-09T15:43:46+01:00
da