Lo store online della Epic Games questa settimana ci regala due grandi classici indie, il dungeon crawler a turni Guild of Dungeoneering e il platform con rompicapi evocativi Never Alone (Kisima Ingitchuna).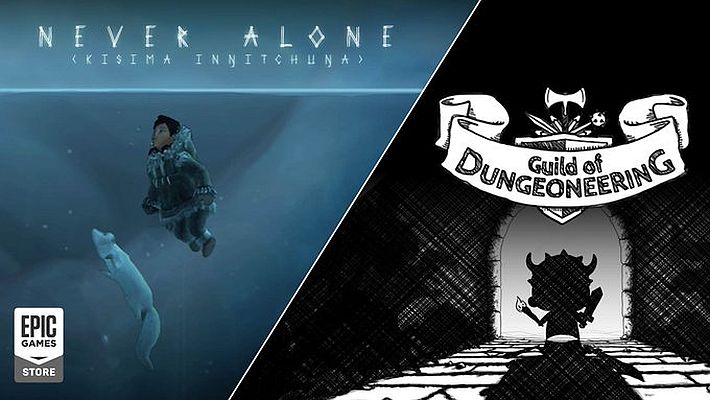 Guild of Dungeoneering presenta qualcosa di diverso rispetto ai più famosi dungeon crawler, dove invece di controllare i propri eroi, bisogna dapprima costruire il dungeon.
F-R-E-E. You know what day it is. 🤪

Grab Guild of Dungeoneering and Never Alone now on the Epic Games Store! https://t.co/mqSSRohqHL pic.twitter.com/sBnwgwceQa

— Epic Games Store (@EpicGames) November 18, 2021
Dovrai disporre stanze, mostri, trappole e, naturalmente, bottini usando carte pescate dai mazzi Gilda. Nel frattempo, il tuo eroe prende le proprie decisioni su dove andare e cosa combattere.
Ma sarà abbastanza forte da affrontare i dungeon più reconditi? Tra un dungeon e l'altro gestisci la tua gilda, costruendo nuove stanze per attirare nuove classi di avventurieri ed espandendo il tuo mazzo di carte con oggetti più potenti.
Never Alone (Kisima Ingitchuna) ci porta alla scoperta della ricca tradizione e cultura del popolo Iñupiat. Un'avventura unica nominata per numerosi premi e costruito in collaborazione con la comunità dei nativi dell'Alaska.
Gioca nei panni di una giovane ragazza Iñupiat e di una volpe artica per trovare la fonte dell'eterna bufera di neve che minaccia tutto. Incontra personaggi nativi tradizionali, condividi la loro saggezza e le loro storie e vivi un gioco come nessun altro.
Potrete scaricare gratuitamente entrambi i giochi da questo indirizzo, ma affrettatevi, avrete tempo solo fino al 25 novembre, giorno in cui verranno sostituiti dal pacchetto di benvenuto Antstream e da theHunter: Call of the Wild™.
Fonte: twitter.com
Guild of Dungeoneering e Never Alone gratis ora su Epic Games Store
ultima modifica:
2021-11-18T22:52:05+01:00
da