Lo store online della Epic Games questa settimana ci regala il divertentissimo Bridge Constructor: The Walking Dead e il roguelike Ironcast.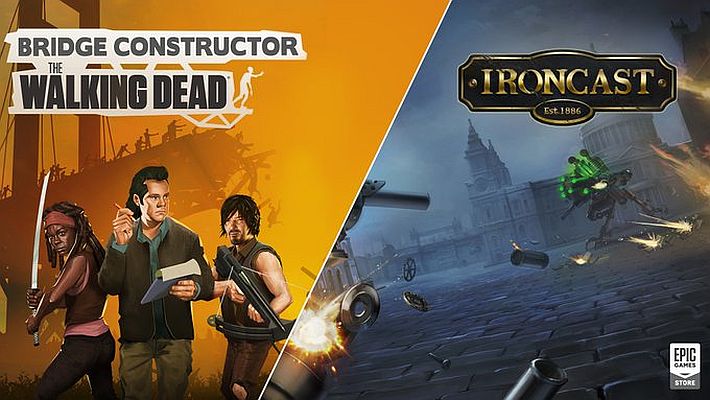 Bridge Constructor: The Walking Dead unisce il gameplay leggendario e avvincente di Bridge Constructor con l'universo post-apocalittico di The Walking Dead, la serie tv AMC.
Got any weekend plans? How about killing undead walkers and taking control of an Ironcast to defend Victorian England?

Bridge Constructor: The Walking Dead + Ironcast are both FREE this week on the Epic Games Store!https://t.co/L09RPTwEFJ pic.twitter.com/EFAvIthlYt

— Epic Games Store (@EpicGames) July 8, 2021
Unisciti a un gruppo di sopravvissuti nella lotta contro orde di vaganti e comunità di umani ostili. Costruisci ponti e altre strutture fra paesaggi desolati ed edifici in rovina. Alleati con i personaggi più amati della serie, come Daryl, Michonne ed Eugene, e crea passaggi sicuri per gli iconici veicoli della serie.
Sfrutta oggetti di livello mobili, esplosivi ed esche per attirare i vaganti in trappole letali e portare in salvo i sopravvissuti. Goditi le animazioni basate sulla fisica mentre i vaganti soccombono alla forza di gravità.
Ironcast si dimostra invece come un roguelike ambientato in epoca vittoriana steampunk è un incrocio tra Puzzlequest e FTL. Il gioco è ambientato in un periodo storico alternativo rispetto al corso degli eventi reali.
Un'epoca in cui uomini e donne raffinati, gli uni con in testa cappelli a cilindro le altre con in testa cappellini, comandavano giganti macchine belliche deambulanti, portando morte e distruzione ai nemici dell'Impero Britannico.
Comanda un veicolo deambulante alto 7 metri chiamato Ironcast e affronta un esercito invasore composto da altri Ironcast, nel tentativo di difendere l'Inghilterra vittoriana del 1880.
Le battaglie vengono combattute generando nodi di risorse, che a loro volta guidano le varie armi e sistemi dell'Ironcast. Devi scegliere attentamente come utilizzare questi nodi, sia offensivamente, per azzoppare e distruggere i tuoi avversari, sia difensivamente, se il nemico sospetta che un fuoco di sbarramento sia in arrivo.
Potrete riscattare e scaricare gratuitamente entrambi i titoli da questo indirizzo, dal prossimo giovedì il gioco verrà sostituito da altri due titoli, Obduction e Offworld Trading Company.
Fonte: twitter.com