Il developer 0x199 pubblica una primissima versione di Internal PKG Installer (abbreviato IPI), l'applicazione homebrew per console PlayStation 4 jailbroken ci permette di installare i file PKG dall'hard disk, rendendo possibile l'installazione di file PKG tramite FTP.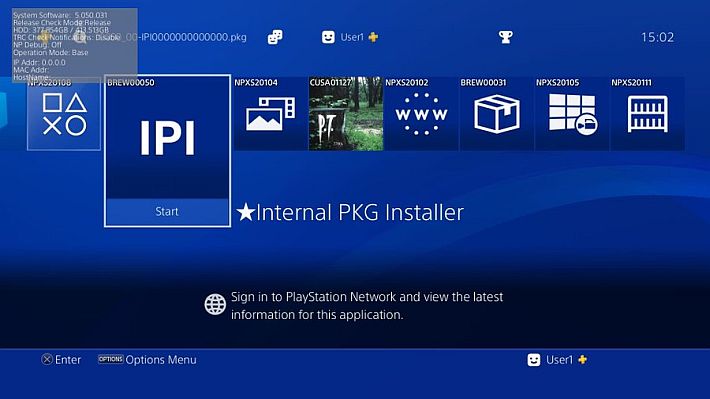 La stessa operazione può essere eseguita utilizzando la versione più recente di PS4 Xplorer pubblicata da The Darkprogramer.
PS4 Homebrew release: Internal PKG Installer

IPI makes it possible to install PKG files from the HDD, giving people not only the choice to install PKG files using USB, but also over FTP.

Download:https://t.co/IrMZJ3OPdw

Source can be found here:https://t.co/4m2uEY0mDr pic.twitter.com/YiUkNjWono

— 0x199 (@0x199) March 26, 2021
Questa nuova versione è stata compilata utilizzando la libreria libjbc, la sandbox indipendente dal firmware del developer Sleirsgoevy, rende l'applicazione compatibile con qualsiasi firmware jailbroken.
Guida
Scaricare e installare il file PKG sulla PS4.
Abilitare il server FTP e caricare il file PKG su cui vuoi installare /data.
Eseguire l'app.
IPI vs Debug Settings
IPI ha uno svantaggio rispetto al Debug Settings. Poiché ora stiamo caricando i nostri file PKG sull'HDD invece di averli memorizzati su di un dispositivo USB, l'HDD richiede il doppio dello spazio.
Questo va bene per l'installazione di piccoli file PKG, se il file PKG è molto grande, controllare che l'hard disk abbia spazio a sufficienza per il caricamento e l'installazione del file PKG.
Download: Internal PKG Installer v1.00
Download: Source code Internal PKG Installer v1.00
Fonte: twitter.com
[Scena PS4] Rilasciato Internal PKG Installer v1.00
ultima modifica:
2021-03-26T18:42:03+01:00
da