Il developer SpecterDev continua la sua ricerca sul recente exploit della console PlayStation 4 cercando di ottenere più stabilità. Allo stato attuale l'exploit ha un tasso di successo del 10%.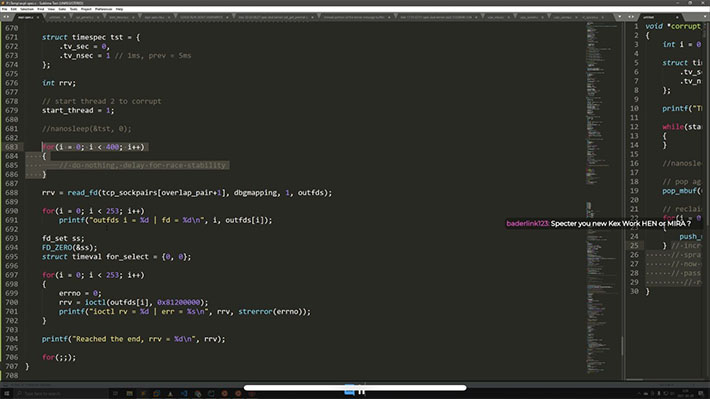 Diversi utenti in questi giorni hanno messo in scena diverse teorie, c'è chi ha tentato di spingere la CPU a clock più alti andando ad eseguire il casual game The PlayRoom.
Win. Not winning super often, but with @tihmstar's tips + slow CPU on the PS4 I think it'll be more stable with some work. pic.twitter.com/pUmZ62AE8v

— Specter (@SpecterDev) March 20, 2021
Inutile dire che queste teorie non hanno trovato alcun fondamento, la stabilità dell'exploit è legata al webKit, e che tutti gli host pubblicati fino ad oggi utilizzano lo stesso exploit e gli stessi payload.
SpecterDev tries to get more stability in the PS4 exploit avoiding to run the race more than once at a time. The first tests shows good results just with a delay loop and increasing the spray size. pic.twitter.com/bUp6k029un

— Retro Gamer (@RetroGamer_74) March 20, 2021
Il developer Retro Gamer in un tweet ci spiega come SpecterDev stia cercando di ottenere maggiore stabilità nell'exploit della PS4 evitando di correre più di una condizione race alla volta. I primi test mostrano buoni risultati, solo con un ciclo di ritardo e aumentando la dimensione dello spray.
Fonte: twitter.com