Check Game Firmware è un nuovo script realizzato dal developer OfficialAhmed per confrontare la data di rilascio di un gioco della PS4 da fonti online e la data di rilascio del firmware ufficiale determinando se un gioco sia riproducibile su quel firmware o meno.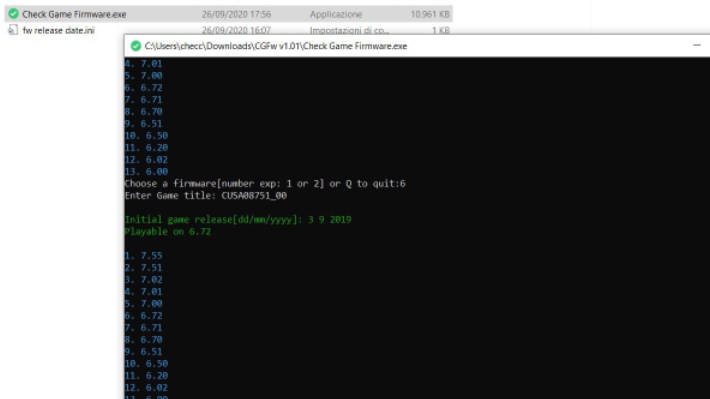 A detta dallo sviluppatore, questa prima versione presenta ancora pochi numeri, pertanto potrebbe non essere accurato al 100%, comunque se cercate una soluzione meno invasiva potrete scegliere di sfogliare il database online FRMCHK.
[Release] CGFw v1.01 (WIP) Ever wondered which system version a PS4 game requires? well this tool is for you
More details https://t.co/Fow4LltzRF .Feel free to submit any bugs. If you'd like to support me my Paypal linked on profile. Have fun y'all. Thanks to whoever supported me

— OfficialAhmed (@OfficialAhmed0) September 26, 2020
Tutorial
Scaricare l'archivio .zip ed estrarre i file.
Modificare  il file fw release date.ini se possibile.

A partire dal 26 settembre 2020 l'ultima versione di sistema disponibile è 7.55, che è presente nella prima riga (fw release date.ini), se esce un nuovo firmware, è necessario aggiungerlo in cima alla riga 7.55.

Eseguire il programma Check Game Firmware.exe e scegliere il firmware richiesto.
Digitare il TitleID del gioco.
Download: Check Game Firmware (CGFw)
Download: Source code Check Game Firmware (CGFw)
Fonte: twitter.com