Microsoft ha annunciato i titoli della Games with Gold disponibili dal primo marzo, gli utenti abbonati potranno scaricare gratuitamente altri due giochi della Xbox 360 e della Xbox One.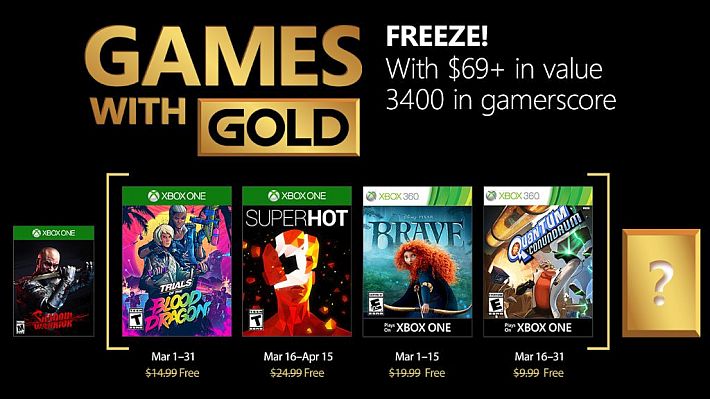 Per tutto il mese di marzo gli abbonati potranno scaricare su Xbox One Trials of the Blood Dragon, titolo Ubisoft in single player dal gameplay ricco e competitivo.
Dal 16 marzo al 15 aprile, sempre su Xbox One troviamo invece Superhot, lo sparatutto in prima persona che cancella il confine tra cauta strategia e massacro sfrenato.
Su Xbox 360 sarà la volta di Brave: The Video Game disponibile dal primo al 15 marzo, mentre dal 16 al 31 marzo gli abbonati potranno scaricare gratuitamente Quantum Conundrum. Questi due titoli, ricordiamo, potranno essere eseguiti anche su Xbox One grazie alla retrocompatibilità.