Il Playstation Blog Europeo oggi ha annunciato i prossimi titoli della Instant Games Collection, per il mese di Ottobre gli abbonati al Playstation Plus su Playstation 4 potranno mettere le mani sul primo capitolo di Resident Evil rimasterizzato in HD e Transformers: Devastation.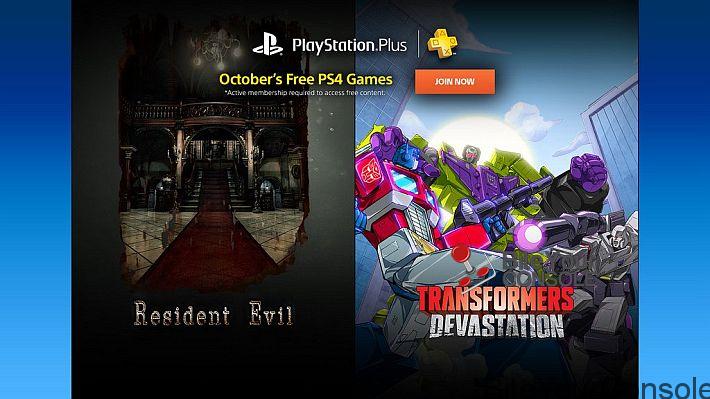 I giochi si renderanno disponibili per il download gratuito dalla prossima settimana, martedì 4 Ottobre. Su Playstation 3 invece sarà la volta di Mad Riders e From Dust, mentre la console portatile Playstation Vita gli utenti potranno scaricare Code: Realize ~Guardian of Rebirth~ e Actual Sunlight.
[tube url=http://www.youtube.com/watch?v=QB25e806tZw]
Titoli disponibili dal 4 Ottobre 2016 al 6 Novembre 2016
Cover
Gioco
Piattaforma
Resident Evil HD

Cover puramente indicativa

Playstation 4
Transformers: Devastation
Playstation 4
Mad Riders

Cover puramente indicativa

Playstation 3
From Dust
Playstation 3
Code: Realize ~Guardian of Rebirth~
Playstation Vita
Actual Sunlight
Playstation Vita
Vi ricordiamo che lo stesso abbonamento può essere utilizzato su tutte e tre le piattaforme, Playstation 4, Playstation 3 e Playstation Vita.