Oct0xor torna a farsi sentire rilasciando un nuovo aggiornamento per quanto riguarda PS3usercheat, che, per chi ancora non lo conoscesse, permette di eseguire trucchi su alcuni game già pre-impostati. Con questo nuovo aggiornamento Oct0xor ha implementato la possibilità di creare i propri trucchi su qualsiasi gioco che ne permette il funzionamento. Il processo non è alla portata di tutti quindi consigliamo solamente di aggiornare il programma e attendere le varie aggiunte che il coder implementerà in futuro.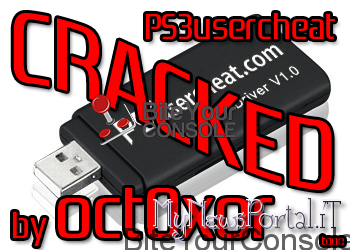 Di seguito troverete l'annuncio ufficiale da parte del coder con il rispettivo download con gli aggiornamenti.
Release: Custom ps3usercheat v2.3 + cheatlist.dat v6.1

Finally releasing what I have many times asked for

Now everyone can make their own AR cheats for PS3.

I hope that one day PS3 will have so much cheats like Nintendo DS
Download:
Ps3usercheat v2.3 e Cheatlist.dat v6.1 
Oct0xor, a sua volta, aveva annunciato di essere al lavoro su CobraUSB e True Blue, promessa che oramai sembra venire meno, sono passati oramai mesi e l'interesse del coder sembra oramai volta al solo Ps3usercheat, uno dei dongle meno "battuti" dagli utenti.
Non vogliamo certo prendere una posizione contro Oct0xor, che ringraziamo per il lavoro svolto fino ad oggi, ma qualche parola di troppo l'ha detta pure lui…