Mambli90 ci ha passato una guida su come eseguire la fantomatica conversione CEX2DEX con RedRibbon RC5. La procedura è testata e funzionante, prima di lasciarvi alla guida ringraziamo Mambli90 per averci passato la guida, ma soprattutto DigitalStunter  per la traduzione in italiano.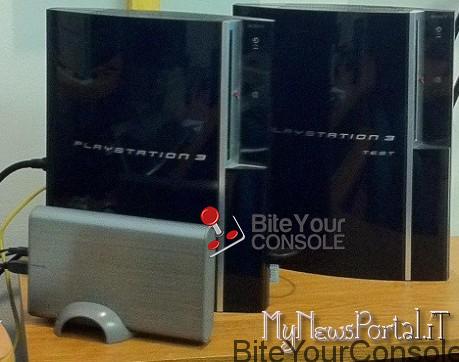 Scarica RedRibbon RC5 e masterizzalo su un CD-R  http://ps3devwiki.com/files/devtools/dump-metldr/Red_Ribbon_RC5.iso
1.  Installare OtherOS + + con patch SS CFW http://gitbrew.org/~glevand/ps3/cfw/CFW355-OTHEROS++-SPECIAL.PUP
2. Al termine dell'installazione, andare nel recovery menu "Ripristina sistema PS3″ (ATTENZIONE! questo cancellerà tutti i dati sul gameOS)
3. Mettere boot_otheros.pkg, dump_flash.pkg, dtbImage.ps3.bin, install_otheros.pkg, reboot.pkg e setup_flash_for_otheros.pkg e questo pacchetto di file technosounds.co.uk/pkgs_for_otheros.rar  su una chiavetta USB. Premi triangolo su "install package files" e poi fai installa tutti i pacchetti (Coloro che hanno una NAND devono rinominare il file dtblmage.ps3.bin-nand.only in dtblmage.ps3.bin).
4. Avviare setup_flash_for_otheros.pkg (per tutti i tipi di console)
5. Riavviare la PS3
6. Avviare boot_otheros.pkg
7. Avviare reboot.pkg
8. Dovresti essere su petitboot.
9. Date il comando : wget http://gitbrew.org/~glevand/ps3/scripts/create_hdd_region.sh
10. Date il comando : chmod a+x create_hdd_region.sh
11. Date il comando :  ./create_hdd_region.sh  (CON IL PUNTO DAVANTI)
12. Riavviare
13. Quando vi trovate nella XMB (selezionate anche l'utente) inserite il disco di RedRibbon RC5, e attendete che esca l'icona di un disco video nella categoria "video"
14. Avviate reboot.pkg e vi ritroverete su petitboot. (Se non va prima aprite boot_otheros.pkg e poi reboot.pkg)
15. Troverete nuove opzioni, scegliete "Live-OtherOS" (non la prima in modalità sicura)
16. Quando siete in RedRibbon cliccate sull'icona di installazione sul desktop
17. Selezionate la lingua
18. Selezionate "Yes Continue" (Si Continua)
19. Hard disk space reserverd by OtherOs++ do you want to use this to isntall? Mettere Si.
20. Selezionare "Automatic Partition"
21. installer /dev/ps3dd  date "Yes (o Si)"
22. Use Current Partitions date "Yes (o Si)"
23. Selezionare un punto di montaggio finito .
24. Fare "Continue" e dare Yes to all (Si a tutti)
25. Impostare un nome utente e una password  (Quello di default è ps3/ps3 e non serve cambiarlo)
26. Riavviare e togliere il CD di RedRibbon dalla PS3
==========Questi comandi possono essere eseguiti utilizzando TelNet==========
27. Quando tornate in petitboot date:  umount /dev/ps3dd1
28. Date:  mount /dev/ps3dd1 /tmp/petitboot/mnt/ps3dd1
29. Date: cd /tmp/petitboot/mnt/ps3dd1/boot
30. Date: wget http://www.technosounds.co.uk/vmlinux-2.6.39-gd49d156-dirty.tar
31. Date: tar -xvf vmlinux-2.6.39-gd49d156-dirty.tar
32. Date: cd /tmp/petitboot/mnt/ps3dd1/etc
33. Date: nano kboot.conf
34. Aggiungere le seguenti righe alla fine di kboot.conf debian=
/boot/vmlinux-2.6.39-gd49d156 root=/dev/ps3dd1 debian_Hugepages=/boot/vmlinux-2.6.39-gd49d156 root=/dev/ps3dd1 hugepages=1
35. Premere CTRL+X e poi Y per uscire e salvare le modifiche effettuate su kboot.conf
36. Avviare Red Ribbon Linux-2.6.powerpc64-otheros
=====RedRibbon disabilita l'accesso di root di default, questo serve a riabilitarlo=====
Usare il terminale per riabilitare il root.
Aprire il terminale (Icona del terminale nell'angolo in alto a destra del desktop)
 Nel terminale digitare:  sudo passwd root
Vi dirà: [sudo] password for ps3: Voi mettete la password (di default è ps3)
Vi dirà: Enter new Unix password: Mettete una password a piacere che utilizzerete per l'account root
Vi dirà: Retype new Unix password: Reinserite la stessa password che avete messo
Vi dirà: passwd: password updated successfully ps3@ps3
Chiudere il terminale.
Sul desktop cliccare su "Shutdown" (l'angolo in alto a destra)
 Quando si apre la finestra di dialogo per lo spegnimento voi cliccate su "switch user" (cambia utente) e premete F10 sulla tastiera e cliccate su "Configure Login Manager"
 Inserire la password di root che avete creato prima e il Configure Login Manager aprirà una finestra
Clicca su "Security" per vedere la pagina di sicurezza e mettere la spunta a  "Allow local system administrator login box"
Quindi cliccate su "close" e chiuderete questa schermata
 Tornare indietro e cliccare sull'icona del file manager sulla sinistra
Vedrete una finestra che vi dirà:  /home/ps3 change that to /
Premere Invio Entrare nella cartella "lib" poi nella cartella "modules"
Una volta dentro andate su "tools" e cliccate su "Open current folder as root"
Mettete la vostra password
Scaricare questo rar ed estraetelo su una chiavetta usb: http://www.technosounds.co.uk/lib-2.6.39-gd49d156.rar
Spostare la cartella appena estratta dall'unità USB nella cartella:  /lib/modules
Dovresti avere 3 cartelle in questo percorso. 2.6.38-powerpc64-asbestos, 2.6.38-powerpc64-otheros e 2.6.39-gd49d156 (appena copiata)
Tornate nel terminale e Date: sudo apt-get update
Date: sudo apt-get install make git ncurses-dev gcc (Premere y per yes quando ve lo chiede)
Date: cd /usr/src
Date: sudo wget http://www.ps3devwiki.com/files/devtools/dump-metldr/linux-2.6.zip 
Date: sudo unzip linux-2.6.zip
Date: sudo ln -s /usr/src/linux-2.6 /lib/modules/2.6.39-gd49d156/build
Ora riavviare la PS3 e selezionare "debian vmlinux-2.6.39″
Date i seguenti comandi:
cd /usr/src/linux-2.6
sudo cp ps3_linux_config .config
sudo make menuconfig
sudo make (4hours 20min roughly)
sudo make install
sudo make modules_install
wget http://www.ps3devwiki.com/files/devtools/dump-metldr/metldrpwn.zip
sudo unzip metldrpwn.zip
cd metldrpwn
sudo make
sudo sh run.sh
Se riscontrate dei problemi chiedete pure.
GRAZIE A DigitalStunter per la traduzione e Mambli90 per la concessione
[Guida] Trasformare PS3 CEX to DEX con RedRibbon RC5
ultima modifica:
2012-07-19T13:12:25+02:00
da